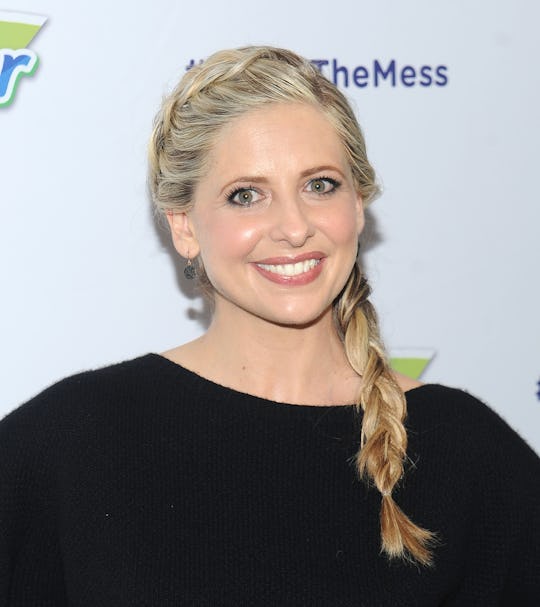 Brad Barket/Getty Images Entertainment/Getty Images
Sarah Michelle Geller's Parenting Advice Is Insightful & Honest
For those of us who grew up watching Sarah Michelle Gellar slay vampires on Buffy and wage high school psychological warfare in Cruel Intentions, it's fun to see Mrs. Freddie Prinze Jr. embrace her new, very grown up role: mom. The 38-year-old mom of Charlotte, 6, and Rocky, 3, has never shied away from sharing her best mom tips and real-world advice on juggling career and family and making the most out of the time you have to spend with your kids. Now the actress, Foodstirs food crafting kit business owner, and mama is out making the rounds on behalf of Swiffer's new campaign aimed at moms with the spot-on title "Say Yes to the Mess" and encouraging families not to be afraid to let things get a little disheveled every once in a while in the name of making memories together. In a recent interview, Sarah Michelle Gellar's shared some parenting advice, and it's actually pretty spot on.
It's not often you see a Hollywood child star grow into an adult that sounds so shockingly down to earth and real. Gellar isn't trying to convince us she's some otherworldly robo-mom, and I like that she's trying to relate to other women with an honest, open approach and a willingness to talk about the struggles even those mothers who aren't rich and famous deal with all the time. Here's some of Gellar's best parenting advice.
On "Mom Guilt"
As a working mom trying to balance family and marriage at the same time, Gellar said she relies on compartmentalizing her life and keeping her work concerns in check to make time for the important stuff. Like, for instance when she was working on the series The Crazy Ones with Robin Williams a few years ago, Gellar said she make a point to carve out time to spend time with her kids either in the morning or at bedtime, regardless of how crazy her schedule got, according to Today's Parent.
But that didn't mean she could totally escape the "mom guilt" we're all so familiar with.
"I still have a lot of mom guilt," she said in an interview with More magazine in 2013. "I haven't had a facial since my first child was born."
On Making The Most Out Of Every Moment
Most recently, Gellar has been out on the speaker's circuit for Swiffer as a part of their "Yes to the Mess" initiative aimed at helping moms keep order around the house. One of the best pieces of advice she shared with her fellow over-scheduled and over-stretched moms was to stop and get the most out of the time you do have to spend with your kids.
"We're all time impoverished, we're all busy," Gellar said at a February event in New York City, according to Us Weekly. "But I make sure when I'm there, that I'm present I'm not checking my phone. I'm not doing a million things."
On Eating Out With The Kids
Part of spending quality time together as a family, Gellar said in an interview with Us Weekly last summer, is having actual, real conversations.
I can't tell you how many times I go to a restaurant and I see families, the second they sit down they just hand our iPads and phones to the kids. And I'm thinking to myself, this should be a special time. Like I remember when I was younger and we got to go out to eat, that was such a special occasion; that's what grown-ups did. I want to maintain that for my family.
On Her Best Advice
She might be part of Hollywood's "it" list, but Gellar's best advice is surprisingly straight forward — trust your instincts. While she confessed it's not "too original" sometimes the best advice is the simplest.
"Just trust your instincts." Gellar said. "There's a reason why you have them."
Pretty smart.