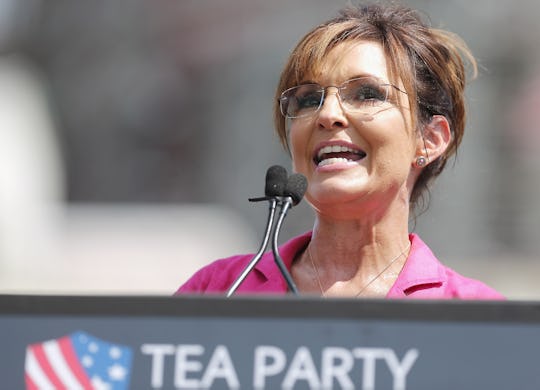 Chip Somodevilla/Getty Images
Sarah Palin Endorses Donald Trump For President & The GOP Race Just Got A Whole Lot More Interesting
The Republican primaries may have just turned into an all-out feeding frenzy. On Tuesday, former vice presidential nominee and Alaska Gov. Sarah Palin endorsed GOP front-runner Donald Trump, giving the candidate an even bigger boost above his rivals. Palin's endorsement comes at a major moment along the campaign trail, with less than two weeks to go before the Iowa caucuses. On Tuesday, Palin said she was "proud" to throw her political weight behind the billionaire mogul.
"I am proud to endorse Donald J. Trump for President of the United States of America," Palin wrote in a statement provided by the Trump campaign. In response, Trump and his staff called Palin's endorsement an honor.
"[Gov. Palin has] praised Trump's leadership and unparalleled ability to speak the truth and produce real results," a Trump spokesperson said in a statement. "A trusted conservative, Palin has a proven record of being fiscally modest, staunchly pro-life and believes in small government that allows businesses to grow and freedom to prosper." The Republican front-runner added that he was " greatly honored to receive Sarah's endorsement", and that he was "proud to have her support" as the 2016 race entered its most crucial phase.
"She is a friend, and a high quality person whom I have great respect for," Trump said.
Trump has been steadily gaining in the polls over his GOP rivals since first entering the race last June. Despite a momentary dip in October last year, concurrent with a sudden surge in retired neurosurgeon Ben Carson's campaign, Trump was able to regain his lead just a month and a half later, in December. While a few of his fellow Republican hopefuls (namely Texas Sen. Ted Cruz) have attempted to chip away at that success since then, none so far have been successful in the long term.
According to The New York Times, Palin's endorsement could have solidifying effects for Trump in Iowa, where the former governor and Wasilla mayor has been campaigning hard in more establishment Republican corners. "Over the years Palin has actually cultivated a number of relationships in Iowa," Craig Robinson, former executive director of the Republican Party of Iowa, told the news outlet on Tuesday. "There are the Tea Party activists who still think she's great and a breath of fresh air, but she also did a good job of courting Republican donors in the state."
The Alaska governor's acknowledgment in the 2016 campaign could do one of two things. Aside from the obvious poll bump, Palin's endorsement could mean a sudden exodus of those faithful Tea Party supporters who've been floundering in the interim period, unsure of whom they should to be backing for the White House (between Cruz, Carson, and junior Florida Sen. Marco Rubio, the pack has been split in recent months).
On Tuesday, Tea Party darling Ted Cruz responded to the endorsement accordingly, tweeting that "regardless of what she [did] in 2016", he would "always be a big fan" of the former governor.
"I love @SarahPalinUSA," he wrote. "Without her support, I wouldn't be in the Senate."
While Cruz has largely dismissed the announcement, however, the sudden endorsement could potentially work in his favor. While Palin chums the waters, many Tea Party voters have already begun criticizing the move as a betrayal of her right wing values.
More to come...
Images: Chip Somodevilla/Getty Images; Andrew Burton/Getty Images