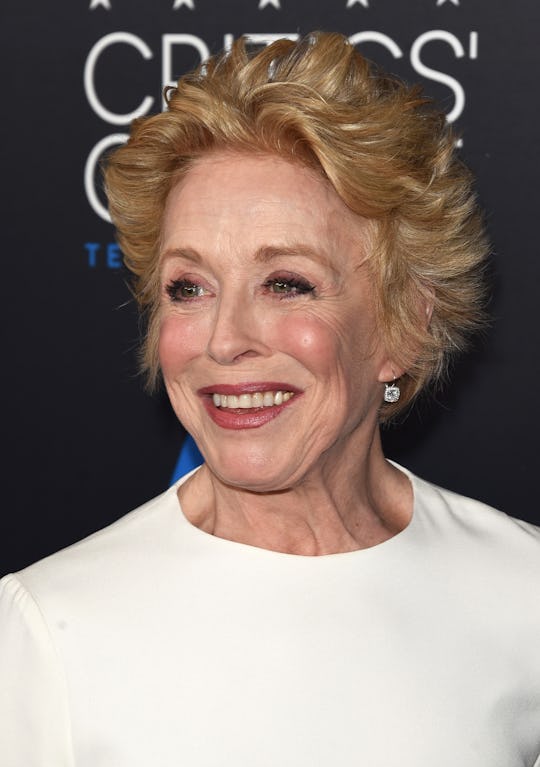 Sarah Paulson & Holland Taylor Are Dating, & 4 More Celebs Who Prove Age Ain't Nothin' But A Number
If you want a sweet, romantic, "feel good" story, look no further: Holland Taylor is dating Sarah Paulson. (Can I get a collective, "awww?") While Taylor recently announced she was in a deeply committed relationship with a woman, it was unclear who this woman was. However, multiple sources tell PEOPLE magazine that the Two and a Half Men star is dating Sarah Paulson, of American Horror Story. And while some are shocked and surprised by this relationship based on their age difference — Taylor is 72 and Paulson is 40 — I say great for them! Age ain't nothin' but a number!
On a recent podcast, Taylor was asked about marrying her partner (who we now know to be Paulson). She said:
Given my generation it would not be something that would automatically occur to me...but as a symbol, as a pledge, as a plighting one's troth, it would be a wonderful thing to do.
On the same podcast, the Two and a Half Men star expressed that she has no interest in making her sexuality the topic of conversation: "I haven't come out because I am out," she said. "I live out." (Love it!)
Here are four other celebrity couples who prove bonds means more than birthdays:
Angelina Jolie & Brad Pitt
Believe it or no, Jolie is the baby in the power couple: She is 12 years younger the ageless (and still sexy) Brad Pitt.
Beyonce & Jay Z
12 is the magic number here too! Jay Z will be 46 tomorrow — happy birthday! — and the lovely Beyonce is 34.
Nicholas Cage & Alice Kim
Married in 2004, Cage and Kim have a 21-year age difference between them.
Michael Douglas & Catherine Zeta-Jones
Michael Douglas was born in 1944; Catherine Zeta-Jones was born in 1969, putting two-and-half decades (and an entire generation) between these two sweethearts.
Images: Jason Merritt/Getty Images, Giphy (4)