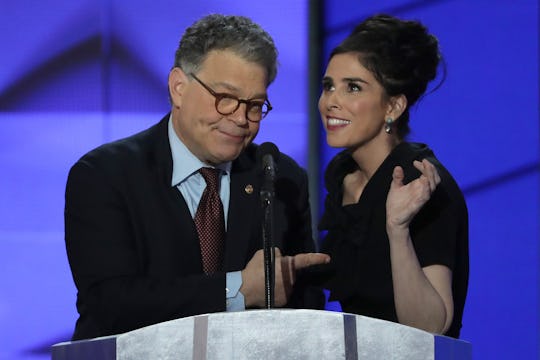 Alex Wong/Getty Images News/Getty Images
Sarah Silverman's Off-Script DNC Remarks Were Awkward For Everyone
Sarah Silverman's Democratic National Convention speech was all about being one of Vermont Sen. Bernie Sanders' biggest supporters as well as why she was happy to vote for presumptive Democratic nominee Hillary Clinton in the fall. Overall, the address was moving, smart, and funny — but towards the end, in some banter with Al Franken, delegates in the hall started to chant for Bernie and Hillary, battling the speakers for attention. In a surprising twist shortly thereafter, Sarah Silverman's awkward, off-script DNC remarks left a memorable impression on audience members both in the room and at home — for better or worse.
She leaned into the mic and said "Can I just say, to the Bernie or bust people, you're being ridiculous." And it got a little awkward. It was totally off script (she mentioned that the duo were told to stretch, probably for Paul Simon to set up) and was in line with her message of the night. Her speech was all about how Bernie Sanders' campaign was progressive and that she still stood behind him much more than she originally stood behind Clinton. But her point was that Clinton would be able to, more than Republican nominee Donald Trump could, and that Sanders supporters could still act on the ideals that Sanders brought into the collective conversation.
All day in Philadelphia, Sanders supporters have been taking over the crowd by chanting for their preferred candidate. Some were even recycling the Republican tagline, "lock her up." Their passion for Sanders and anger over the DNC email hack has almost hijacked the convention from talk of why Clinton is a better candidate than Trump. Because that's the point: for better or worse, Clinton will most likely be nominated this week and then the decision for president comes down to just her and Trump.
Silverman's point was one of unity. In fact, at one point she even tried to speak over the chanters and get them to change their tune to "unity, unity." But it didn't work.
One can see her point in calling Sanders supporters ridiculous. It was basically her saying, "get over it, the stakes are too high right now for fighting." She looked a little embarrassed afterwards and happy when the band was finally ready to take the stage. So maybe Silverman wasn't uniting the party exactly, by pointing her finger at the chaotic crowd. But the Sanders supporters could also be missing the point of what's happening. Think about it, Dems: would you rather start a Bernie-style revolution under a president like Clinton or a president like Donald Trump?
One might be easier than the other and it might be easier to keep Bernie's momentum going if everyone in the convention hall would stop battling each other. Maybe, of course.