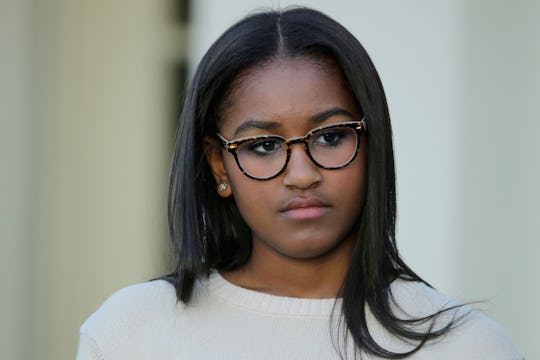 Chip Somodevilla/Getty Images News/Getty Images
Sasha Obama's Summer Job Proves She's Just A Normal Kid After All
For most teens, summertime is pretty typical. School is out, so there's lots of free time to earn a little cash to hit the beach, grab some ice cream, or buy some concert tickets. And for most 15-year-olds, this is usually their first chance to get experience in the working world. Many would imagine this would be a much different scenario for President Barack Obama's youngest daughter, who's lived a pretty high-profile life in the White House for past eight years — but Sasha Obama's summer job proves she's just a normal kid after all. According to The Boston Herald, the president's 15-year-old daughter will be working the takeout window at a seafood restaurant on Martha's Vineyard.
Yes, you read that right. The Boston Herald reports that Sasha has been going by her full name, Natasha, at Nancy's, a busy seafood restaurant on the island, and has been getting plenty of experience in the service industry. According to the newspaper, Obama has been working the cash register, busing tables, and getting the restaurant ready before it opens for lunch. While her responsibilities at work are pretty normal for a first time job, of course, Sasha's summer job life differs from her peers in one very important way.
On Tuesday, six Secret Service agents reportedly followed Obama to her job and waited for her while she served tourist their orders as they sat in large black SUV.
"She's been working downstairs at takeout," an unnamed server told the Boston Herald. "We were wondering why there were six people helping this girl, but then we found out who it was."
The first daughter's summer gig will reportedly end next week when the Obama family arrives on Saturday to take their annual vacation to Martha's Vineyard. According to The New York Daily News, Nancy's is a regular spot for the first family and they are reportedly friends with the restaurant's owner.
Us Weekly reports that Sasha has been working typical 4-hour shifts for several days. So, even if her first summer job seems a bit cushier than most other peoples' gigs, it's likely been an important learning experience and pretty familiar to anyone who spent their teen years hoping for a little extra spending money.
Obama's experience in the restaurant industry surely hasn't been as glamorous as her big sister's resume shows so far — in 2014 Malia landed an internship as a production assistant on Halle Berry's CBS Show, Extant, and year later she worked on the set of HBO's Girls.
But, regardless of where the president's daughters have decided to learn the ropes of their respective and chosen career paths, it's clear that their parents have steered them in the direction of responsibility. All things considered, a summer job at a restaurant is as normal as it'g going to get for the daughter of one of the most powerful men in the world.