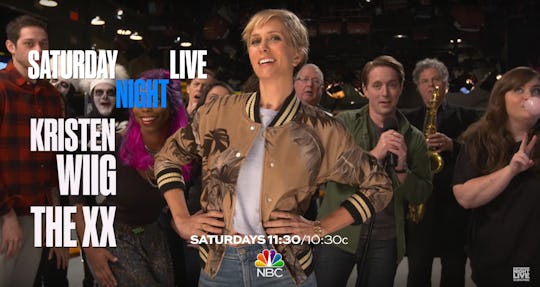 'Saturday Night Live' Does The Mannequin Challenge, So Get Hype For Kristen Wiig's Return
First there was the Harlem Shake, then came the ice bucket challenge, ~shudders~ the Kylie Jenner lip challenge, and now the mannequin challenge is the new to-do on social media. In case you've been living under a rock, the mannequin challenge is having a group of people freeze like mannequins, as a camera sweeps in and out capturing their dramatic poses. The viral video trend is slowly coming to a halt, but not before Saturday Night Live tries the latest craze on for size. In the promo that announces Kristen Wiig will be hosting for a second time, SNL does the mannequin challenge.
Appropriately set to Rae Sremmurd's "Black Beatles," the camera documents frozen cast favorites. In one minute, we catch a stiff Mikey Day and Bobby Moynihan decked out in their David S. Pumpkins skeleton costumes, Kate McKinnon's alien abduction character, Ms. Rafferty, smoking a cigarette, and Leslie Jones taking a selfie. We also see Colin Jost and Michael Che behind the Weekend Update desk, and Cecily Strong getting her makeup done. The final shot is of Kristen Wiig. The SNL veteran is positioned like a champion superhero with her sidekicks behind her. She brings her body to life when pointing to text of her name.
Aside from Wiig's pointing, we get a real sense that this challenge was carefully thought out long before it was shot in other ways. Props made specifically for the challenge like spilled blue paint, and a chair made to slant backwards evidence this. But even though the scene was obviously premeditated and purposeful, Leslie Jones fronts as if she has no idea what's going on. "Why you all still still like this?" Jones questions the cast while looking around. When no one answers, she asks "Huh?" to Wiig in a louder tone. Jones then looks blankly at the camera, comically ending the clip.
SNL wasn't the first show to conduct the challenge. Sesame Street and The Late Late Show with James Corden have also taken a stab at staying still, along with many celebrities. Blac Chyna and Rob Kardashian took the challenge to another level when they executed the video in Chyna's hospital room mid-labor. Count on the Kardashians to take on a viral video challenge while someone is about to give birth.
Watch Wiig perform anything but mannequin-like on NBC's Saturday Night Live Saturday at 11:30 p.m.