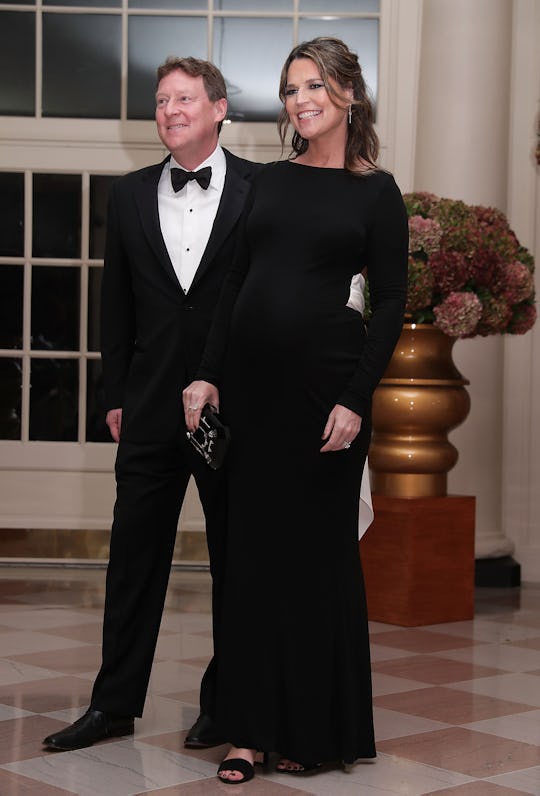 Alex Wong/Getty Images News/Getty Images
Savannah Guthrie Gives Birth, & Photos Of Her Newborn Son Are Adorable
TODAY show co-host Savannah Guthrie gave birth to her second child Thursday morning, and she's already shared a bunch of seriously sweet photos from the hospital to celebrate his arrival. Back in September, Guthrie announced that she and her husband, Mike Feldman, would be welcoming a boy into their family later in the year during a blue milkshake-themed, on-air gender reveal, and now the couple has shared that they've named him Charles Max Feldman, in honor of Savannah's late father and Mike's grandfather, according to TODAY. Baby Charley, as he's being called, weighed 9 pounds, 8 ounces at birth and measured 21.5 inches long. (No word yet on what his 2-year-old big sis, Vale, thinks of the new addition, but given how cute he is, chances are she'll be pretty smitten, too.)
As excited as Guthrie and Feldman were to meet their new little one, it turns out there was also someone else who couldn't seem to wait to see Charley in the flesh: Guthrie's TODAY co-host Matt Lauer. According to E! News, Lauer visited the Guthrie in the hospital Thursday to offer his well-wishes (and to sneak in a cuddle with the new baby, obviously), and told viewers during the show Friday that "Mama and Dad are doing great," and that Charley "is one cute little boy."
The decision to find out Charley's gender ahead of time was a departure for Guthrie, who had chosen to keep her daughter's gender a secret until she gave birth. But this time around, the new mom-of-two felt it would be helpful to be as prepared as possible to help Vale adjust to the reality of having a sibling. As Guthrie explained on TODAY in September, "I thought, it's already enough upheaval for a little girl to have a new baby — we got to tell you what kind of baby."
And that was probably a good idea. In a tweet back in June, Guthrie shared Vale's not-so-enthusiastic reaction to the news she was about to become a big sister. In the clip, the 2-year-old — wearing a yellow t-shirt that read "I Was Here First" — was super upset at the prospect of having a sibling, even yelling "NO!" when her mom asked her if she wants a new baby.
Although Vale may not have been on board with the plan, Guthrie told The Hollywood Reporter that she was thrilled to have to be having another baby, even though, at 44-years-old, she admitted it was "late ... in the game." Guthrie said she didn't intend to wait as long as she did, and that while it might look like she chose to postpone motherhood for her career, the reality was that she "didn't have [her] act together," in her personal life when she was younger, and explained, "my professional life was going better. So you know, you just keep doing the thing that works." She and Feldman married in 2014 when she was four months pregnant with Vale, and said it was "like the greatest embrace from God that I can imagine, to get to have a baby. And to get to have a second is just beyond."
At the same time, Guthrie explained to Fit Pregnancy that she'd also made peace with the reality that she might only ever get to be a mom of one:
I came to motherhood so late in life. When I got pregnant with Vale, I won't say I'd given up hope, but I didn't let myself think about how sad I would be if it never worked out. So when Vale came along, I was overjoyed. And to this day, if it was only Vale, it would not be 'just Vale.' She is beyond every dream, the icing on the cake, plus the gold medal, plus everything. But at the same time, I wanted to try to give her somebody to do life with.
But Guthrie hasn't been the only mom-to-be at the TODAY show this time around. According to TODAY, meteorologist Dylan Dreyer is also due to give birth to her first child — also a baby boy — sometime this month. Dreyer announced her pregnancy on-air only a few days after Guthrie, according to The Daily Mail, which Lauer quipped was all part of the plan to "[take] over morning television one new viewer at a time."
According to Us Weekly, Guthrie officially began her maternity leave from TODAY on Dec. 2, and wrote on Twitter that it would be her "last day for a while! xoxo." No word on when Guthrie intends to return to TV, but there's no doubt that, in the meantime, she'll certainly have her hands full as she and Feldman settle into their new life as a happy family of four.