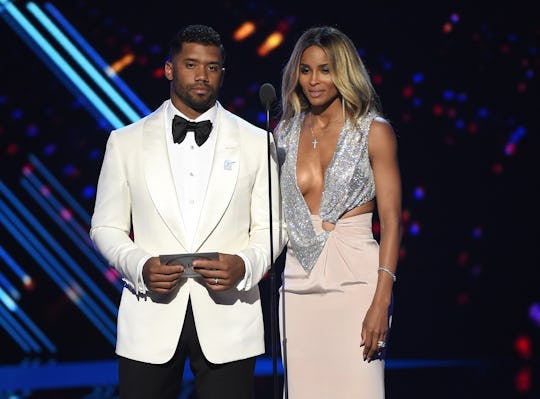 Kevin Winter/Getty Images Entertainment/Getty Images
Saying Ciara Isn't Over Future In Light Of Her Pregnancy News Is Absurd
Singer Ciara and Seattle Seahawks quarterback Russell Wilson, just married in July, have announced that they're expecting a baby together, but all anyone wants to talk about is her relationship with a man she broke up with two years ago. But bringing Future into Ciara's pregnancy news isn't just ridiculous, it's also deeply sexist. Ciara won a Grammy before Future's rap career even began, and she is not defined by him. Some Future fans are claiming that Ciara having a baby with her husband somehow proves that she's not over Future, as if the conception of a child is some sort of revenge, and that notion is just absurd.
If anything, Future's the one who's still stuck in the past, considering his rude tweets about Ciara got so bad, she had to file a lawsuit claiming libel and invasion of privacy. A judge recently ruled that the tweets alone weren't enough to prove that Ciara's reputation has been irreparably damaged by her ex, according to Entertainment Tonight, but the invasion of privacy claim still stands. Future has also made veiled death threats against Wilson both in a rap and on Instagram, according to another claim filed by Ciara, because he doesn't want Wilson hanging around his 2-year-old son, also known as Wilson's stepson. Future did not immediately respond to Romper's request for comment regarding the invasion of privacy claims and the alleged death threats against Wilson.
Ciara and Future were introduced by their record label, and announced their engagement in October 2013, seven months prior to the birth of their son, also named Future. But the pair split up just three months after the baby was born, amid rumors that Future cheated on Ciara. Future, for his part, claims that he didn't cheat, and that he actually called off the engagement, but is vague on the details. During a HuffPost Live appearance (transcribed by E! Online), Future said, "When you're a man, you want to make decisions for your family, and sometimes the lady doesn't see what you see." He went on to imply that they disagreed over wedding plans, and cited concerns about how the media might report his strip club patronage once he was married. Seems like a strange reason to call off a wedding.
Now, some fans are claiming that Ciara's pregnancy is some sort of statement to Future, and others, incredibly, are calling Ciara a "ho" (or more precisely, a "hoe") for being pregnant. To be clear, there is never any excuse for calling a woman a "ho," but a married, 31-year-old woman, who intentionally got pregnant with her husband? Under what circumstances, exactly, is Ciara allowed to have sex? She and Wilson even famously abstained from sex until they were married. Meanwhile, Future has four children with four different women, and no one is calling him a "hoe" or a "ho." But that's none of my business...
Hard as it might be to believe, Ciara is more than just Future's ex, just like Jennifer Aniston is more than just Brad Pitt's ex. Ciara has moved on, gotten married, and started a family. If she didn't share a son with Future, she'd probably never give him another thought. And Wilson hugging little Future or pushing his stroller isn't an affront to the child's father, older Future, it's a testament to how much he cares for the kid and his mother. It's something to be applauded. Ciara is a real person, not a supporting character in a soap opera about Future. She's well over her relationship with Future, and it's time his fans were, too.