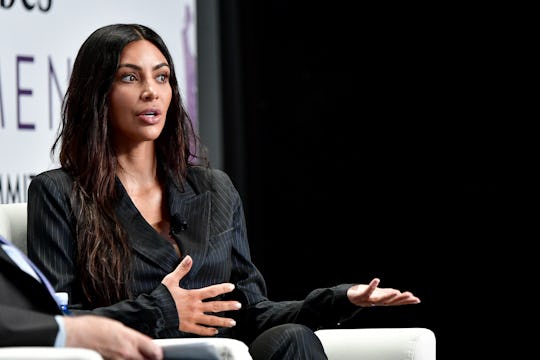 Dia Dipasupil/Getty Images Entertainment/Getty Images
Why It's Not OK To Say Kim Kardashian's Surrogate Is "Unnecessary"
Pretty much everyone and their grandma has an opinion about Kim Kardashian. (Literally, my grandma has no idea what wifi is, but thinks Kim Kardashian has great hair.) And while, certainly, everyone is entitled to their own opinions on celebrities, there are some instances when sharing those opinions is wrong. Period. Such is (so often) the case with Kardashian's life choices. Practically every decision she makes is met with criticism from strangers and internet tolls all over. But, the thing is, saying that Kim Kardashian's surrogate is "unnecessary" completely misses the point, in more ways than one.
Obviously, it can be easy to look at Kardashian and her husband, Kanye West, and think that their lives are about as easy and luxurious as it gets. I mean, seriously, even just their wedding was one of the most aesthetically pleasing and photogenic events in history, and its just been getting better since then. While it's tempting to point out the couple's large paychecks and loyal fan base, it's also important to note that Kardashian's surrogate is actually 100 percent necessary, and even if it wasn't, it wouldn't really be anyone's business to say so, would it?
Because seriously, can't we just let Kim K live, already?
The thing is, Kardashian hiring a surrogate isn't a vanity issue, as many trolls have suggested. As fans will remember, Kardashian didn't exactly have an easy previous two pregnancies, with North and Saint. Documented thoroughly on Keeping Up With The Kardashians, as well as on her website, Kardashian has been open about her fertility difficulties, as well as her struggles throughout pregnancy. On her website, Kardashian said:
I had a condition called preeclampsia, which is a serious condition you can get during pregnancy; often, the only way to get rid of it is to deliver early to protect yourself and the baby. Only about 5 percent of woman get this. Lucky me! It causes your body and face to swell, and that was very uncomfortable for me. I had early-onset preeclampsia and I had to deliver at 34 weeks, almost six weeks early.
So, no, Kardashian deciding to use a surrogate this time around isn't "unnecessary," in fact, its literally lifesaving. A woman has a right to decide what to do with her body, even if that means deciding not to do anything at all. No matter what, Kardashian is a mom, and she has to make decisions that will be best for her family, no matter what certain internet trolls will think.
So, back off haters. Because Kardashian's surrogate is reportedly already pregnant, and baby No. 3 is on the way. And that's all that matters.