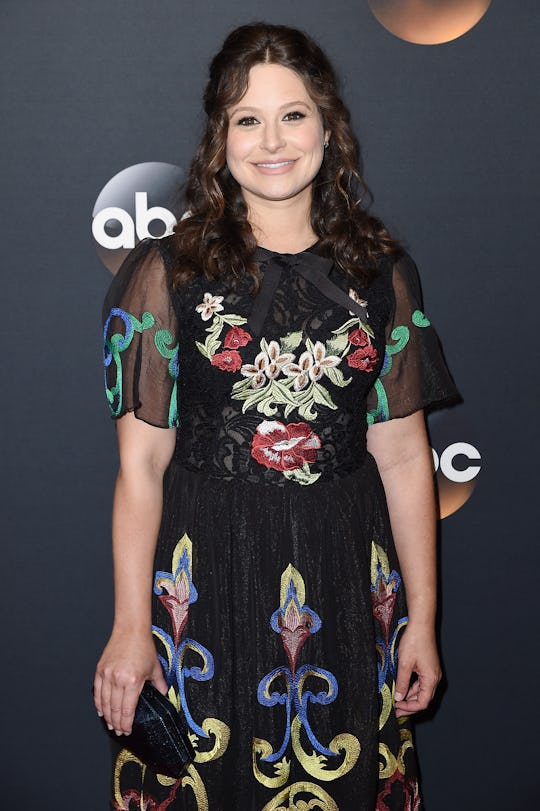 Nicholas Hunt/Getty Images Entertainment/Getty Images
'Scandal's Katie Lowes Got Honest About Having A Miscarriage, & It's So Real
It goes without saying that celebrities are under no obligation to share details about their private life, especially where it concerns family planning. Still, many famous people choose to share personal anecdotes for the sake of their fans. Case in point: Scandal's Katie Lowes revealed she had a miscarriage prior to her son's birth, and there's a good chance her honesty will help others.
In October 2017, Lowes gave birth to her first son, Albee. Scandal fans were thrilled, to say the least, especially since Lowes announced Albee's arrival just minutes after the show premiered its final season. "Baby's first #Scandal live tweet," Lowes captioned a shot of Albee's feet and Scandal memorabilia, according to Twitter. "Adam and I are thrilled to welcome Albee Shapiro into our family! We're happy & healthy! #BabyGladiator."
In case you didn't already pick up on it, Lowes was thrilled to become a mom. So excited, in fact, that she decided to launch a podcast called "Katie's Crib" — a weekly show about motherhood. The best part? The people behind Shondaland — a website inspired by Scandal creator Shonda Rhimes — encouraged Lowes to take on the project.
"Shondaland approached me about it actually. They came to me and thought, 'I feel like you're going through this huge thing called motherhood and there are probably a lot of people that would benefit going through this stuff with you,'" Lowes revealed about the podcast's inception, according to The Wrap. "It's been amazing."
And it's true that "Katie's Crib" has the potential to benefit fellow parents out there. Want proof? Look no further than Lowes' candid confession about having a miscarriage three months into her pregnancy. Although it's not exactly clear when Lowes had the miscarriage, she confirmed it occurred before Albee's birth.
"The initial feeling, when I found out there was no heartbeat from the doctor in a routine checkup, was like, 'Okay, let's Olivia Pope the situation, let's fix it,'" Lowes said about discovering the loss, according to People. "Let's make the schedule, let's get to the hospital, let's get the [dilation & curettage]. When can I start trying again?'"
As much as Lowes was pragmatic about the situation, however, she struggled to cope with her fluctuating hormones post-miscarriage.
"As soon as it set in that I'd had a miscarriage, what happens is you have a major hormonal drop-off," Lowes admitted, according to Page Six. "And I think I was massively sad for about three months, and I was only pregnant for three months."
Lowes' talk of hormones and her "massive" sadness following the miscarriage is important. For starters, her honesty proves that parents can experience mood swings after a miscarriage due to fluctuating hormones. Feeling emotional — or not like your typical self — is completely OK after you have a miscarriage. In fact, some experts claim that it can take up to 12 weeks for hormones to stabilize after a miscarriage, according to SheKnows. Considering some people might be in the dark about the phenomenon, it's powerful that Lowes is taking the time to talk it over with her listeners.
Additionally, it's great that Lowes got candid about her variety of emotions following the miscarriage. You can be sad and realistic about having a miscarriage, for instance — there's no shame in wanting to try again shortly after a loss. Each person is different.
Whether you're a fan of Scandal or not, it's hard not to see how Lowes' honesty about her miscarriage has the potential to help others. From Lowes' talk about her fluctuating hormones to her variety of emotions about the loss, there's a lot to be learned from her candor.