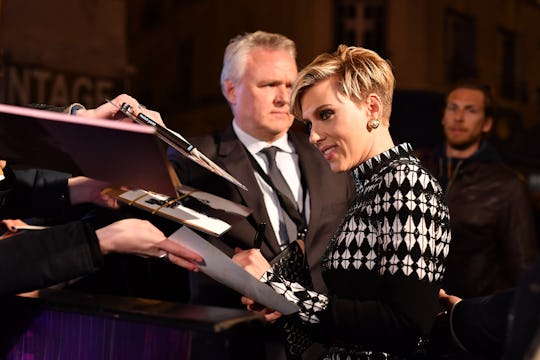 Pascal Le Segretain/Getty Images Entertainment/Getty Images
Scarlett Johansson Says Breastfeeding Grounded Her
Anyone who has nursed a baby knows that it's not always easy, and it's certainly not always fun. But sometimes the act of breastfeeding also ends up becoming about so much more than just feeding your child — it can be a unique opportunity for major bonding and connection, too. In a recent interview with E! News to promote her upcoming film Ghost in the Shell, actress Scarlett Johansson said breastfeeding helped ground her while she was filming, and that she found it to be "a pretty wonderful way to come back to [herself]" after a long day at work.
Since giving birth to daughter Rose in 2014, Johansson has stayed relatively mum on her private life. But it definitely sounds like it hasn't been entirely easy: in addition to juggling motherhood and her busy film career, Johansson announced earlier this month that she had filed for divorce from her husband of two years, Romain Dauriac, according to Us Weekly. In an accompanying statement, she vowed that she would "never, ever be commenting on the dissolution of my marriage," for the sake of her daughter. So, now, hearing Johansson talk about breastfeeding was a pretty important reminder that, for all the added stress and worry and exhaustion that motherhood (and life) can bring, it is also full of countless wonderful experiences that you could never possibly anticipate.
Unfortunately for Johansson, though, her split from Dauriac doesn't quite seem as though it will go super smoothly. According to Page Six, the couple is actually gearing up for a custody battle, with Johansson requesting primary custody over their daughter, and Dauriac's attorney, Harold Mayerson, claiming that her ex "would like to move to France with his daughter" (Dauriac, a former journalist and editor of a French magazine, now owns an advertising agency, according to The Sun).
One major issue at the center of the disagreement? Johansson's career. According to The Hollywood Reporter, Mayerson told the Associated Press that Dauriac has been the "primary parent" to Rose due to Johansson's filming obligations, and that though he also plans to petition for primary custody, his estranged wife will have "access to her daughter any time she wants to come to Paris" (Johansson reportedly owns two properties in the city). But that's not all: clearly not interested in mincing any words, Mayerson also added that "Mr. Dauriac is tired of having to run his life and his child's life based on Ms. Johansson's shooting schedule," and that he wanted to "implore her to withdraw her action promptly and go back, as uncomfortable as it might be, to the negotiating table" for the benefit of their future co-parenting relationship, according to The Daily Mail.
Perhaps in an effort to hit back at Mayerson's dig, Johansson spoke in a recent interview about how important it is to her to be able to model hard work and career success for her daughter. According to The Daily Mail, Johansson said,
I am so proud to do a job that I love to do and that I've worked really hard at to get where I am. To be able to show my daughter that and have her come to the workplace and see that her mom is an independent woman making it happen — it's really important for me.
That doesn't mean though, that Johansson considers it easy to be a working mom. According to People, she told reporters at the amFAR New York gala in February that she was "barely, barely holding it together" as a working mother, and that she "[didn't] profess to know anything about parenting, anything more than anybody else." But while she might struggle, Johansson said that she felt lucky to at least be able to try:
Being a working mom is an incredible challenge, and it's an incredible gift. I think you always feel a little bit of guilt … If you're at work, you feel like you're missing out on those special moments with your kid. If you're with your kid, you feel like you're not giving enough to your job. It's a balance. I have a lot of huge admiration for working moms.
From the sounds of it, life at the moment isn't exactly particularly easy for Scarlett Johansson, even though it's easy to assume that her life as a gorgeous movie star must be pretty perfect. Just like the rest of us, she too has her ups and downs. And in those moments, it sounds like she's learned that being present with her daughter is one of the best things she can possibly do.