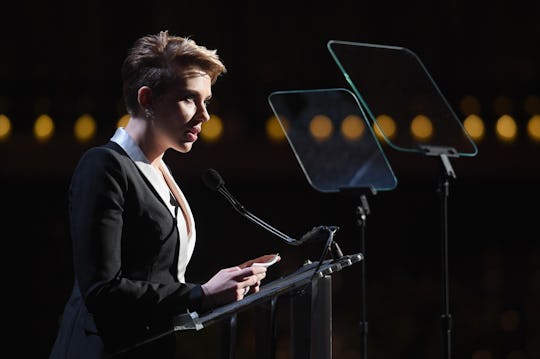 Dimitrios Kambouris/Getty Images Entertainment/Getty Images
Scarlett Johansson's Views On Marriage Are Honest
For Scarlett Johansson, when it comes to marriage and kids, there are two universal truths: Parenthood changes you and getting hitched is not for everyone. In an in-depth Playboy interview published Tuesday, the 32-year-old Avengers star contemplated her identities as a mother and wife, ultimately concluding that both roles are as life-changing as they are complex. Some have called her opinions "shocking," but overall, Scarlett Johansson's views on marriage and kids are enlightening.
The "shocking" part? Johansson doesn't think monogamy is natural — a concept that's shared many people, including evolutionary biologists. The twice-married actor told Playboy that, although she thinks marriage is "a beautiful idea," it's still hard work for a lot of couples, which proves that monogamy is "not a natural thing." Johansson's own life may inform this view: The top-grossing actor of 2016 had a short-lived love affair with Canadian heartthrob Ryan Reynolds in 2011 before meeting and marrying Romain Dauriac, an ad executive from Paris, according to Playboy. Now Johansson and Dauriac, who have a 2-year-old daughter together, are getting a divorce, E! reported.
Johansson also goes on to talk about the power of parenthood. The born and bred New Yorker shared how being a mother changed her dramatically, while also making her feel "more myself now than I did before." Here are five quotes from Johansson's Playboy interview that show a profound view on marriage and kids.
Parenthood Changes Everything
For me, it's the best thing that has ever happened. Ever. Somebody once described it to me as your heart growing this other chamber, and I think that's really profoundly true. Your capacity to love something, at least in my experience, deepens to a whole other space. I think I was afraid that life would change, and it does; it dramatically changes. But I feel in a lot of ways more myself now than I did before.
Monogamy Is Not For Everyone
I think the idea of marriage is very romantic; it's a beautiful idea, and the practice of it can be a very beautiful thing. I don't think it's natural to be a monogamous person. I might be skewered for that, but I think it's work. It's a lot of work. And the fact that it is such work for so many people—for everyone—the fact of that proves that it is not a natural thing.
Social Media Vs. The Toddler
I don't have space for it in my life ... A couple of days ago my phone died, and I didn't have a phone for 20 hours, and it was wonderful. I was so thrilled. It may have been the first time in my life I wasn't panicked to not have my phone. I was just like, 'This is great!' I had my kid with me. I was like, 'I don't need anything. I got my kid, I'm good.'
When Acting And Parenting Meet
Where I want to be working is definitely something ... It will probably get more challenging as she gets older, once she's in school and her life is more established in one place. It's a struggle for a lot of people, because we exist in this weird nomadic industry where almost everybody on a crew has a family, and it's hard. It's hard on relationships; it's hard on your partner, your kids, family in general, friends.
It's Hard Work Being Married
Being married is different than not being married, and anybody who tells you that it's the same is lying. It changes things. I have friends who were together for 10 years and then decided to get married, and I'll ask them on their wedding day or right after if it's different, and it always is. It is. It's a beautiful responsibility, but it's a responsibility.
There's no doubt that Johansson was profound in her views on marriage and kids when talking to Playboy's Amanda Petruisch. But it shouldn't be forgotten that the 32-year-old actor hasn't always hit the mark. Over the last year, Johansson has faced quite the controversy for her questionable casting as the lead in Paramount's upcoming adaptation of Mamoru Oshii's 1995 film Ghost in the Shell. Fans and actors alike have (rightfully) criticized Johansson's role as Major Motoko Kusanagi, calling it a whitewashing of the popular Japanese magna series. At the time Johansson's casting was announced, writer and activist Summer Noblé wrote in a Huffington Post blog that:
Practices like these contribute to the erasure of non-white characters in history as well as actors and actresses who are already so largely underrepresented in media, and that does not come without a cost.
Johansson recently defended her role as Major Kusanagi in an interview with Marie Claire (and again in Playboy) stating that it's about feminism, not race (although, it should go without saying that if your feminism isn't intersectional, it's problematic). Johansson's representative didn't immediately respond to Romper's request for comment. According to BuzzFeed, the Ghost in the Shell star's comments riled many people, who took Johansson to task on social media to "do better."