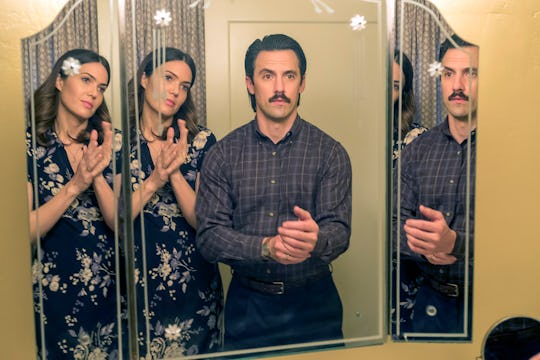 Ron Batzdorff/NBC
Jack Appeared As An Old Man In The 'This Is Us' Finale & Twitter Had Some *Feelings*
Fans knew an elderly version of Jack would show up at some point during the This Is Us Season 2 finale, but that didn't make seeing it firsthand any less heartbreaking. This was especially due to why he was even there in the first place. And to say that good people of Twitter had some *thoughts* on the matter is certainly an understatement. As soon as Jack appeared as an old man in the This Is Us Season 2 finale, viewers immediately took to the social media site to express their feelings. And boy was there a lot of them.
Initially, it seemed as though Jack's presence was going to take place at Kate and Toby's wedding. That would make sense, considering how close Kate was to her dearly departed father and how much we know she would've wanted him to be there. However, it didn't quite happen in the way many expected it would. Instead of him appearing in some alternate timeline at Kate's wedding, it was actually all part of a dream Kate kept having — not of her wedding, but rather a vow renewal between Jack and Rebecca. It was to celebrate their 40-year marriage and give fans a taste of what life may have been like for the Pearsons had Jack not died in that fire.
In some ways, it was absolutely beautiful to watch. Here's a family that has been through so much heartache, so to finally see all of them together for such a happy event was truly a joy to behold. But at the same time, it's what made the scenes all the more heartbreaking. This is something that will never happen — so close, yet so far out of reach. Jack is gone, making this perfect future impossible, which is a lot to take in, especially when you start thinking about how happy he would've been to walk Kate down the aisle.
Did I find myself sobbing in front of my TV screen at a volume that undoubtedly made my neighbors feel a mixture of concern/annoyance? Absolutely. But that's how this show thrives. You know you know the direction it's going to take us, you try to prepare for it, but in the end, we're all just weeping uncontrollably on the floor of our apartments. This Is Us, you've done it again.
But as emotionally devastating as it this was, there was one aspect about all of it that I particularly enjoyed despite my constant tears. Milo Ventimiglia, who plays the beloved Pearson patriarch, never really gets a chance to act alongside the adult versions of the Big Three. So watching him share scenes with Chrissy Metz, Sterling K. Brown, and Justin Hartley was really wonderful and something I could absolutely get used to for future episodes.
Not that this will necessarily ever happen again, of course. It didn't feel like the show was introducing us to an alternate timeline that would become a permanent fixture of the series like the flashbacks and flash forwards. But hey, I guess you never know. I definitely wouldn't say no to seeing more scenes with Old Man Jack, that's for sure.
But regardless, this was definitely an episode to remember and will leave fans begging for more long before Season 3 rolls around. It's been an incredible year of getting to know the Pearson family better, but judging on how it all ends, it's more clear than ever that we've only just scratched the surface of their incredible stories. Now... is it fall yet?
Check out Romper's new video series, Romper's Doula Diaries:
Watch full episodes of Romper's Doula Diaries on Facebook Watch.