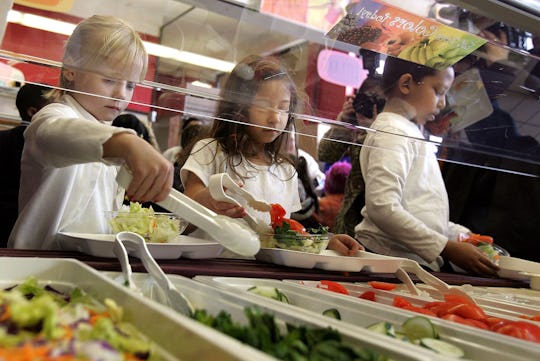 Tim Boyle/Getty Images News/Getty Images
School Allegedly Stamped "Lunch Money" On Kid's Arm
According to BuzzFeed News, one Phoenix mom recently got an unpleasant surprise when her son's elementary school allegedly stamped "lunch money" on his arm when his school lunch funds were low. Tara Chavez's son, a second grader at Desert Cove Elementary School, reportedly had his arm stamped by the lunch lady without permission and spent the day embarrassed by the incident.
"I was surprised," Chavez told BuzzFeed. She explained that her son had never come home stamped before, and said:
Normally I get a slip in his folder when he needs more money. ... My kid's really weird about stuff like that, so I asked if he was given a choice by the lunch lady and he said, 'No, she just grabbed my wrist and put the stamp on.' ... He was screaming and crying the entire time. He was humiliated, didn't even want me to take a picture of it.
The incident quickly went viral on social media, with many people who had been in similar situations in the past — or had been part of free lunch programs at school — commiserating with Chavez's son. Apparently, this sort of incident isn't all that rare, unfortunately, and people clearly remembered getting stamped in school:
Romper reached out to Desert Cove Elementary School for comment, but did not hear back immediately. However, Becky Kelbaugh, communications specialist at the school district Desert Cove belongs to, told the Huffington Post that the policy had been discontinued.
"It was never the intention of Desert Cove Elementary School administration and staff to embarrass any student by using the stamp," Kelbaugh said. "Students were given the choice between a letter or reminder stamp. Going forward, Desert Schools Elementary School [sic] will send a letter home notifying parents of low lunch balances."
Other parents have spoken to the media about similar instances — at different schools — in the past. After father Jon Bivens' 8-year-old son came home from school with a stamp that read "I need lunch money" last year, the Alabama-based dad told AL.com, "It's a form of bullying and shaming the kids. ... Send me a note home or an email. Where can I draw the line regarding my parental rights?"
Elementary school can be hard enough without adding extra fire to the flame in the form of lunch money stamps that might make a child subject to taunts and bullying. Hopefully more schools will take parents' and children's consideration into mind and keep parent-teacher communication off of kids' arms from here on out.