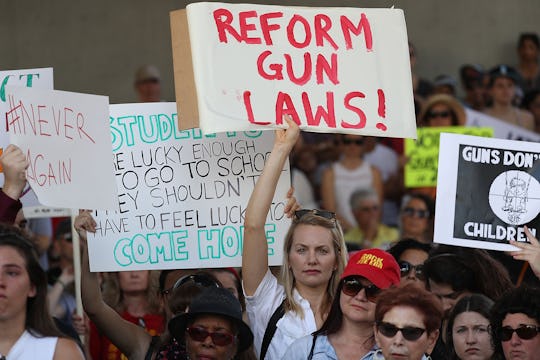 Joe Raedle/Getty Images News/Getty Images
"March For Our Lives": What To Know About The Nationwide March To End School Shootings
This past week, the unthinkable happened yet again — a school shooting broke out at Marjory Stoneman Douglas High School in Parkland, Florida, leaving 17 dead and people all across the world reeling and in mourning. What happened at the high school is something that should never have happened in the first place, yet shooters are still able to find ways to purchase guns due to the lack of policy and protection in the United States. Because of the inaction from the government, it shouldn't come as a surprise that school shooting survivors have announced a "March For Our Lives" demonstration to demand action on gun reform and to make a powerful statement about how badly change needs to happen.
When people turn out to marches in numbers, they can be physical proof of a call to action. Sometimes, pleading with politicians to make a change isn't enough and it takes people coming out in numbers to really make the difference. That is exactly what survivors of the Florida school shooting are planning on doing with the "March For Our Lives" when they head to Washington to ask that policymakers do something to make gun laws safer and stricter.
While this new march has just been announced, there are some key details that you need to know about it.
Why It's Happening: The March's Mission
Organizers of the march, who are survivors of the Stoneman Douglas shooting appeared on This Week to plead with lawmakers and ask citizens to make a stand with them at the march later this year. The purpose of the march is to get everyone to listen to this issue — Republicans and Democrats alike. Cameron Kasky, an 11th grader and survivor of the shooting told host Martha Raddatz, that the point of the march is to "create a new normal where there's a badge of shame on any politician who is accepting money from the NRA (the National Rifle Association).
Over on the march's website, these feelings of terror and anger are expressed clearly. As the organizers state, children in schools should no longer have to live in fear:
School safety is not a political issue. There cannot be two sides to doing everything in our power to ensure the lives and futures of our children who are at risk of dying when they should be learning, playing, and growing. The mission and focus of March For Our Lives is to demand that a comprehensive and effective bill be immediately brought before Congress to address these gun issues. No special interest group, no political agenda is more critical than timely passage of legislation to effectively address the gun violence issues that are rampant in our country.
When It's Happening
The march is planned for Saturday, March 24, which is a little more than a month away. This gives people plenty of time to book their tickets to Washington, D.C. to march alongside the survivors of the shooting and tell Congress that enough is enough.
Where It's Happening
The march is going to be held in Washington, D.C., according to the march's website. But if you can't make it over to the nation's capital in time, there should be no worries. This is because organizers are hoping that people will march in their own cities, in their area, along with those marching on Washington.
More details will be released about the community marches, according to March For Our Lives, and people can enter their email on the website to stay in the loop about these community marches and how they can continue to support those who are marching in Washington.
But Isn't There Another Protest?
Organizers from the Women's March Youth Empower program are planning on organizing a protest of their own a few days before this march on Washington D.C. on Wednesday, March 14. Organizers are calling for students, teachers, and allies to walk out of the classroom at 10 a.m. across every time zone, to protest against the inaction from Congress. So far, 21,000 people on Facebook are confirmed to attend this walkout and students in schools all across the United States are already planning to attend.
Additionally, organizers of the National School Walkout are calling on high school students to walk out of their classrooms at 10 a.m. on Friday, April 20, and calling on students to wear orange and protest gun violence in their communities.
All of these protests need to happen and there won't be enough. On average, two dozen children are shot everyday in the United States, according to The Washington Post, and lawmakers have done nothing to prevent this or stop this. It's going to take more than one march or protest to have the voices of the survivors be heard — it's going to take multiple people doing multiple things to show that a change needs to happen ASAP, which is exactly what these survivors and advocates aim to do.