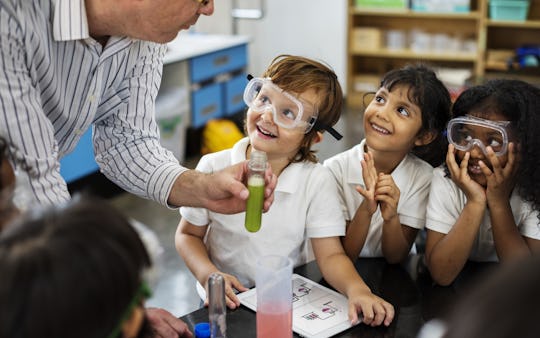 Fotolia
School Staff Donated 75 Days Of Vacation Time To This Teacher Undergoing Chemo
In April, public school teacher Robert Goodman learned he had advanced colon cancer, and would need surgery and intense chemotherapy. By late July, Goodman had exhausted his sick days and needed additional leave time for more treatment. So he turned to the internet and the internet delivered: In less than a week, school staff donated sick days, enough for Goodman to continue with his chemo. It's amazing to see educators come together to support a colleague, but it's also a heartbreaking reminder of how the United States fails its workers.
Goodman, a history teacher at Palm Beach Gardens Community High School in Florida, had used up all of his available sick days — 38, to be exact — when he decided to turn to Facebook for help on July 23, according to ABC 13. He snapped a shot of him receiving chemotherapy and posted it to his page, explaining his ordeal and his need for 20 more sick days in order to complete treatment before having to return to the classroom. And within four days of his Facebook post, teachers, school staff (including lunchroom workers), and school administrators who pay into Florida's retirement system gave a total of 75 sick days to Goodman, ABC 13 reported.
Goodman, who has taught history at Palm Beach for 23 years, told CNN:
I couldn't believe it happened so fast. Educators all over the country were reaching out to me to donate their sick days, even professors over at Florida Atlantic University. I felt guilty because I knew there were people who had it much worse than me.
Although the amount of time it took to accumulate donated sick days amazed Goodman, the fact that teachers were giving did not. The 56-year-old public school teacher said, according to CNN:
I wasn't surprised that teachers were giving. Teachers are always giving all the time. When one of their own needs help they'll always step up.
It's truly wonderful that school employees in Florida showed up for a colleague in need. But their charity is also, tangentially, reflective of the consequences of the country's abysmal paid leave.
Among 41 developed nations, the United States is the only country without paid leave of any kind, according to the Pew Research Center. And while the country does have the Family and Medical Leave Act (FMLA), which had made workplaces more equitable, particularly for working families, it falls short in a lot of ways — namely, but offering workers only 12 weeks of unpaid leave for childbirth, caregiving, or medical issues.
That means employees who need time off but can't go without pay can easily slip into poverty because taking unpaid leave risks their financial stability. Or, they may go back to work and risk their health because they can't afford to not bring in an income.
To be clear, Goodman is "not complaining" about his situation or the help he's received, and is instead "very humbled by the entire experience," he told Romper. But he does recognize that the state needs to do more for its workforce.
Goodman told Romper:
I do believe people need help. I happen to be lucky to where I could receive it. I'm very humbled by the entire experience — but I also care about everybody. We also need single payer healthcare. My school district did all the could do and helped me at every turn. It's the state that needs to step up.
Democratic Sen. Kirsten Gillibrand of New York had filed legislation five years ago to solve the United States' leave problem, according to Fortune. But each time Gillibrand has introduced the FAMILY Act — 2013, 2015, and last year — it's stalled in the legislature.
"This is an issue of both economic security and family well-being," Ellen Bravo, co-director of Family Values @ Work, a leading paid leave advocacy coalition, told Romper last year. "People lose their jobs … and our economy suffers when that happens."
Although the issue is often centered around parents, paid leave is crucial for everyone. At one point or another, nearly every employee will deal with a serious illness, whether their own or a loved one's, and need time off for treatment and caregiving. They shouldn't have to sacrifice a paycheck for that.