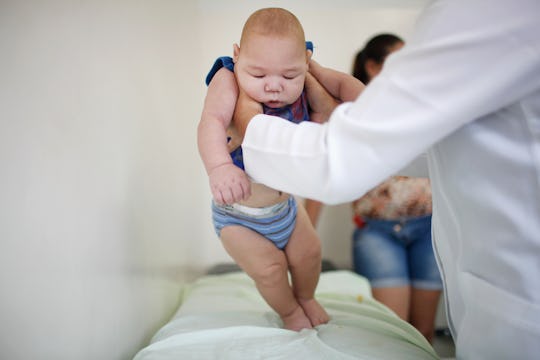 Mario Tama/Getty Images News/Getty Images
Science Shows Zika Causes Microcephaly, Proving What We Already Knew
Though the results are preliminary and more fleshed-out research is forthcoming, a study has confirmed what has been assumed about Zika for quite some time. Science shows Zika causes microcephaly, essentially proving what we already knew. The methods of discovery were relatively simple: published in the Lancet Infectious Diseases, the report examined the trends between babies born with microcephaly this year versus babies that were born with microcephaly last year, and the results were staggering.
Examining 48 Brazilian infants who were "diagnosed with probable congenital Zika virus syndrome," researchers were able to conclude that a majority of the infants had microcephaly and/or craniofacial disproportion, yielding 86.7 percent and 95.8 percent, respectively. In the study's conclusions, the infants were noted to have high levels of "irritability, ...irritable and impatient cry, and sleep disorders. The infants were difficult to calm down even when fed." "Brain activity maturation disorders" were also quite prevalent among the Zika infected. Just six of the infants studied "who had abnormal imaging findings and a characteristic phenotype were not born with microcephaly," though researchers were sure to note that three of the subjects actually "had microcephaly postnatally."
Andrew Pavia, a pediatric infectious disease specialist at the University of Utah, told The Washington Post that, though he was not a part of the research, he trusts that now "there is overwhelming evidence and there is really no room for doubt" that Zika causes microcephaly. Again, these findings were only preliminary and were released early to the public; about 200 more Zika cases against 400 controls will need to be assessed for the study to be complete.
A member of the research team Dr. Antonia Augusto Moura da Silva of the Federal University of Maranhao, Sao Luis, Brazil, told NPR that the examined " babies do not catch up as they grow. ...We [researchers] were expecting some degree of falling behind average, but we were astonished by the degree to which they were lagging behind." The study also indicated that microcephaly caused by Zika was more severe than if it were caused by other viruses such as cytomegalovirus, rubella (German measles), or varicella (chicken pox) virus. Thália Velho Barreto de Araújo, an expert at the Federal University of Pernambuco in Recife, noted that "Zika virus should be officially added to the list of congenital infections alongside others, such as syphilis, rubella and cytomegalovirus."
NPR noted that, "the children in the study, and others like them, will need lifelong services from specialists including neuropediatricians, ophthalmologists, physiotherapists, nutritionists, nurses, and psychologists." After this very conclusive study releases in its entirety November, perhaps scientists will then be able to put their complete efforts toward Zika prevention and treatment so that, for parents, raising a child with microcephaly can become the least bit more manageable.