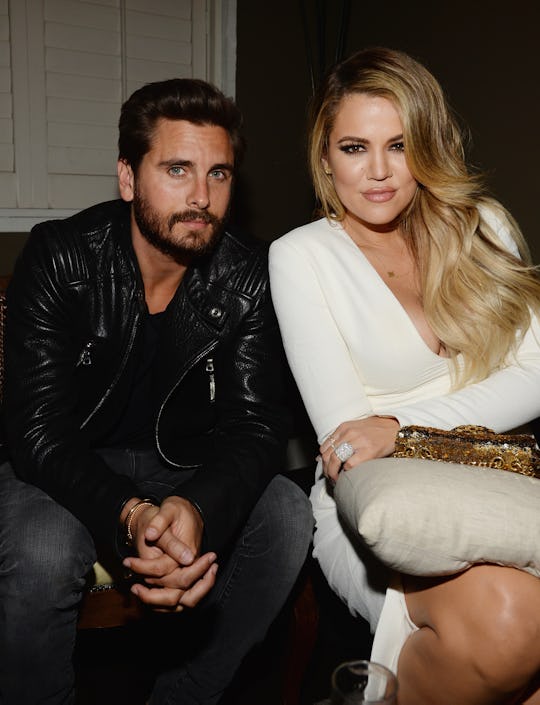 Chris Weeks/Getty Images Entertainment/Getty Images
Scott Disick Doesn't Think Khloe Kardashian Needs His Parenting Advice
When you're expecting your first child, the first thing everyone will want to give you is their advice. Whether that advice is asked for or totally unsolicited, most people believe that they hold the keys to the secrets of parenting. Both Khloe Kardashian and younger sister Kylie Jenner are about to get a lot of that, as they're both reportedly expecting their first children next year, although they have yet to address the rumors. Still, some people are already delving out parenting advice to them. But sister Kourtney Kardashian's ex, and father of her three children, Scott Disick doesn't think Khloe needs his parenting advice and he is kind of right.
Disick knows the Kardashians well. Kourtney's longtime on-again-off-again boyfriend has been in front of the Keeping Up with the Kardashians cameras since the first episode. Over the past 10 years of the show, fans have watched Disick and Kourtney fall in love, break up, get back together, and have kids. The couple shares three children together — 7-year-old son Mason, 4-year-old Penelope, and 2-year-old Reign — so he does have plenty of experience in being a parent.
But just because Disick is a seasoned dad or is close to Khloe doesn't mean that he will be giving her parenting advice any time soon. Although Khloe hasn't formally confirmed or denied her pregnancy rumors, Disick did open up to E! News about what he might say to Khloe if she ever were to ask for his advice:
Well, if she ever asks I'm sure I would try. But I feel as if all of us are so close that all of our children are kind of brought up in the same vicinity, or one block over, that everybody's kind of there for each other.
Disick continued, explaining that if he were to give Khloe parenting advice, it would happen within time and not prematurely, or just while she is pregnant. Disick told E! News:
I don't really need to give advice per se because, we are right there. It's not like long distance "Hey maybe you should try this?" Everybody is so hands on that I feel like it will happen within time. So no real advice in that sense.
Disick is right — advice should be given naturally. Just because someone is pregnant does not mean that you should load them up on advice and tips for navigating pregnancy and parenthood. Everyone's experience as a parent is different. What works for one won't work for the other, and it's important to remember this.
Disick's comment on Khloe's reported pregnancy is more than just a helpful tip — it is one of the first times that anyone close to the Kardashian family has commented on the unconfirmed news, which some have taken as a sign that Khloe is indeed pregnant. Romper has reached out to her rep for comment, but has not heard back at this time.
Khloe's younger brother, for instance, Robert Kardashian's ex-girlfriend Adrienne Bailon, was also one of the first celebrities (and someone close to the Kardashian camp) to comment on the news. Bailon told Us Weekly that she was thrilled for Khloe. "Khloe has incredible maternal instincts," Bailon told the magazine recently. "She's just a kind, loving person and I think that's what a child needs, lots of love, and she's got it to give."
Some celebrities also took to Twitter to comment on the news, when it was announced that Khloe was reportedly expecting her first child — but instead of providing advice, they made some pretty distasteful jokes. It is important to remember that Khloe has not confirmed the reports about her pregnancy — so people, like Disick and these celebrities chiming in about it aren't helping, although it's tempting to take these tidbits of info as such.
Even sister, Kim Kardashian had to make a note of this. "People who we supposedly work with 'confirming' details they know nothing about!," Kim tweeted after news of Khloe's pregnancy broke. "Especially when we haven't communicated with them SMH."
When (or if) Khloe needs parenting advice, I'm sure she will let her fans and followers know. Until then, fans will have to follow Disick's lead and just wait for when the time is right.
Watch Romper's new video series, Romper's Doula Diaries:
Check out the entire Romper's Doula Diaries series and other videos on Facebook and the Bustle app across Apple TV, Roku, and Amazon Fire TV.