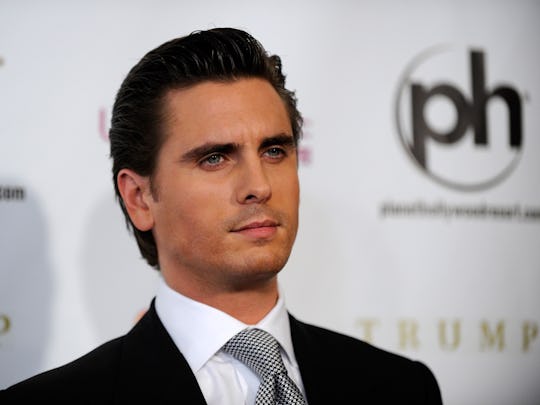 David Becker/Getty Images Entertainment/Getty Images
Scott Disick Quotes About His Kids Are Adorable
As most fans know, Keeping Up with the Kardashians star Scott Disick is a dad to three adorable kids — 7-year-old Mason Dash, 4-year-old Penelope Scotland, and 2-year-old Reign Aston — and fans of the show may have glimpsed a cute Disick parenting moment or two on Keeping Up with the Kardashians. If you needed more proof of Disick's commitment to his family, however, Scott Disick's quotes about his kids are a great reminder that he's hyper-focused on giving his children a great life and raising them right.
After all, despite a life lived in the public eye and an on-again, off-again relationship with Kardashian, Disick's kids have remained his priority. Even during their separation, Kardashian told You that co-parenting with Disick was "really easy," according to E! News. "We make sure we go on days out together because the kids love it," she said in August. "Scott and I communicate all the time. You have to keep discussing what's going on because as the children grow older, the rules need to be renegotiated."
And in his own words, Disick has had nothing but good things to say about parenting and his children. Here are some of Disick's best quotes about his kids:
On Learning To Parent His Kids
Editor's Note: The Instagram post has since been deleted.
"You learn as you go. There's no real advice you can give anybody, and if anybody says there is, they're lying," he told People in October. "I could have used some advice probably. It's not easy. Kids don't come with a rule book. You gotta figure it out yourself. It's one of those things."
On Spending Time With His Kids
Asked about how he enjoys his time off, Disick told Us Weekly:
The only fun is really with my kids, I'd say.
On Putting His Kids First
Editor's Note: The Instagram post has since been deleted.
According to Hello Magazine, Disick was asked what was next for him during an interview on Kocktails with Khloé. Disick responded honestly, saying:
The only thing I'm trying to focus on is calming down and focusing on the kids and trying to be a good dad.
On Picking Up His Kids' Hobbies
Disick was never a huge fan of Halloween, but his kids love it — so now, so does he. "The kids really like it, so it makes me want to get into the spirit of it," he told People. "Before that, I was not a monster Halloween guy, per se, but it's fun now."
On The Importance Of Being A Good Dad
"I think every day is such a big day, especially when you're a dad," Disick told Us Weekly in August. And just the month before, he shared some uplifting parenting advice with the magazine, saying:
Take every day like it's a new day, start fresh, be present, be happy, and you know, have a positive energy and a positive vibe so your child comes into the world with a positive energy.
Disick clearly has his parenting priorities in order — and he's been an amazing dad to his three kids. Here's to many more sweet quotes from the dad of three!