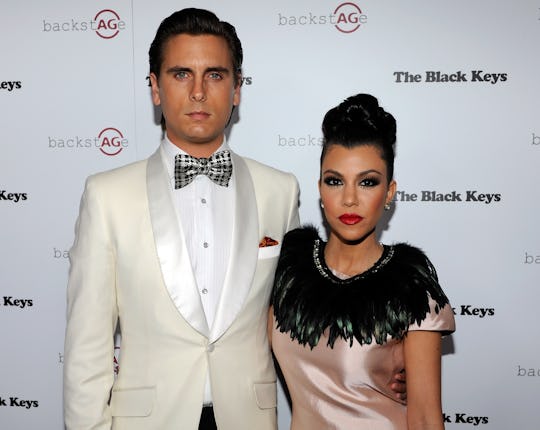 Ethan Miller/Getty Images Entertainment/Getty Images
Scott Disick On Co-Parenting With Kourtney Kardashian
Co-parenting isn't always the easiest of endeavours, and many couples wonder how their split will affect their family dynamics. Fortunately for some, though, co-parenting comes rather naturally to them — and one Keeping Up with the Kardashian star counts himself among those lucky ranks. On Saturday, during an interview with People, Scott Disick said co-parenting with Kourtney Kardashian was easy, dispelling any rumors of a difficult relationship since the pair split ways in October 2015.
"We never had any negativity between us and we made a very smooth transition into the way we live," he told People over the weekend. "Luckily, thank God, we're able to see one another and still be with our children and, knock on wood, that we have that."
Disick and Kardashian share three children: Mason, 7, Penelope, 4, and Reign, 2. And while their dramatic off-and-on dating captured the attention of reality TV viewers for years on Keeping Up with the Kardashians, both Disick and Kardashian say their co-parenting has remained stress-free.
"I find co-parenting really easy," Kardashian told You Magazine in August, according to E! News. "Scott and I communicate all the time. You have to keep discussing what's going on because as the children grow older, the rules need to be renegotiated."
That doesn't mean the rumors haven't swirled around the family. Kardashian told You Magazine that she and Disick like to plan group outings together for the sake of their kids, but that paparazzi attention can ruin their fun. "We make sure we go on days out together because the kids love it," she said, "but it's really hard when you're at the zoo and there are cameras in your face all day."
The media attention hasn't ruined their easygoing relationship, however. "Thank God we have that and everyone is somewhat happy and it seems to work," Disick told People. "It's not broke, so don't fix it. ... I don't think we know any other way, to be honest."
Personally, if I had to co-parent, Kardashian and Disick's relationship would definitely be my #CoparentingGoals. Of course, Kardashian gives herself space from her ex when she needs it — but most of the time, she and Disick post scary face-swaps together, go on beach vacations with their kids, and dress up in matching family Halloween costumes. These days, Disick and Kardashian seem like the best of friends, and they're both 100 percent dedicated to giving their children the best lives they can. Here's to hoping they can keep that easy, positive relationship going.