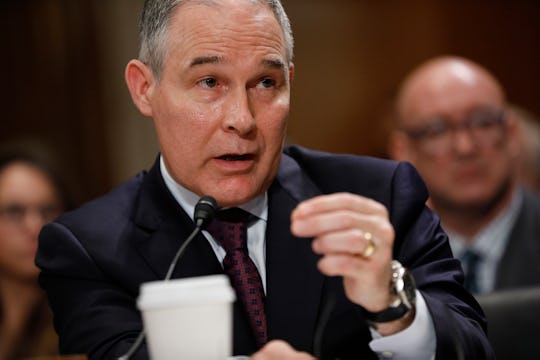 Aaron P. Bernstein/Getty Images News/Getty Images
Scott Pruitt's Net Worth Isn't What You'd Expect
On Friday, the Senate voted to confirm Oklahoma Attorney General Scott Pruitt as head of the Environmental Protection Agency. Like most of President Donald Trump's cabinet picks, he's established himself as an enemy of the very agency he'll now lead. But Scott Pruitt's net worth sets him far apart from his colleagues. Hold on to your hats: he is not a billionaire. Pruitt's actual assets aren't publicly known, but Vanity Fair lumped him in with a handful of Trump's "poor" nominees, estimating that he has "barely $1 million in investible assets; $5 million at best."
Pruitt practiced law for five years before getting into state politics, and the Chicago Tribune reported that he's received more than $300,000 from oil and gas companies in the form of campaign donations. According to Politico, he received $114,000 from energy company PACs and executives for his 2014 reelection campaign, which was unopposed. That's a lot of money to fight a non-existent fight! An even more significant clue into his finances is the fact that he was once co-owner and managing general partner of the Oklahoma City Redhawks minor league baseball team. Those aren't cheap. Pruitt was co-owner from 2003 to 2010, when the team was sold to Mandalay Baseball Properties for an undisclosed amount, but three years later, Forbes reported that the team was worth $21 million, making it one of the most valuable minor league teams.
So it appears that having a 10-figure bank account isn't a prerequisite for serving in the Trump Administration; rather, you have to be really hell-bent on dismantling everything that President Obama built. And Pruitt stands out there, too: while serving as Oklahoma Attorney General, he dismantled the state's Environmental Protection Unit. He also sued the EPA an astonishing 13 times since 2011, according to The Huffington Post. Trump repeatedly threatened to dismantle the EPA during his campaign, so it should come as no surprise that he'd pick someone who appears to agree with him.
Pruitt has also co-authored an op-ed claiming that the "debate" on climate change "is far from settled. He also once famously had his staff copy a letter sent by an oil and gas company onto official state government stationery and pass it off as his own words to the EPA, according to the The New York Times. It remains to be seen exactly what he plans to do with his new agency, but at least he'll earn a few more bucks.