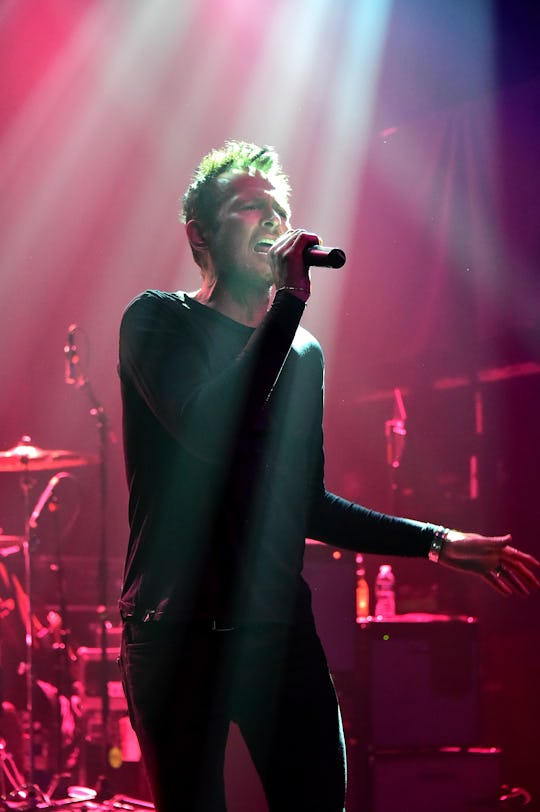 Getty Images
Scott Weiland's Ex-Wife Wrote In 'Rolling Stone' About His Drug Abuse, & Every Fan Should Read It
When the news broke that Scott Weiland died of cardiac arrest last week, it wasn't totally unexpected. In fact, his ex-wife, Mary Forsberg Weiland, wrote an open letter to Rolling Stone magazine saying as much on Monday. Forsberg's powerful letter to fans is the sort of thing that only someone who loves someone with substance abuse problems can write, and her message is important. Scott Weiland was a talented musician. He was also the father of his two teenage children, Noah, 15, and Lucy, 13. And like too many other celebrities and just regular people, he also struggled with substance abuse. It informed his music and his personal life to the degree that, according to Forsberg, Weiland "couldn't remember his own lyrics" and couldn't be there for his kids.
When a musician (or actor, actress, anyone in the spotlight) dies, we tend to remember the best songs, the best roles, their appearances on television. Of course, the first thing I did when I saw that the Stone Temple Pilots frontman died on Thursday was cue up the 1992 album Core and text my best friend from high school. We listened to that album on repeat in middle school because it was angry, and sad, and because we probably thought Weiland was hot. Kurt Cobain was dead and Eddie Vedder was too serious. The Stone Temple Pilots and Scott Weiland just felt good.
But Weiland was always suffering from addiction, and fans knew that. Even we as kids knew that. We accepted it as part of his rock persona. Musicians do drugs. That's a thing. We never had to deal with him firsthand. His family and friends did, though. Forsberg wrote to Rolling Stone that she and her children lost Weiland years ago:
Even after Scott and I split up, I spent countless hours trying to calm his paranoid fits, pushing him into the shower and filling him with coffee, just so that I could drop him into the audience at Noah's talent show, or Lucy's musical. Those short encounters were my attempts at giving the kids a feeling of normalcy with their dad.
Her letter goes on to remind people to look a little deeper into the behavior of musicians we idolize and consider how it's affecting those around them and whether we're romanticizing that:
We read awful show reviews, watch videos of artists falling down, unable to recall their lyrics streaming on a teleprompter just a few feet away. And then we click "add to cart" because what actually belongs in a hospital is now considered art. Many of these artists have children.
Billy Corgan, the Smashing Pumpkins lead singer, wrote on his own website after Weiland's death that Scott was one of "the great voices of our generation, I'd say it were he, Layne [Staley], and Kurt [Cobain]." But they also died of substance abuse. Forsberg's reflection on her ex-husband may not be what fans want to hear. But she is right to point out that as a culture, we tend to glorify artists who struggle without noticing that they are struggling and often hurting those around them. Addiction can level anyone, even our idols.
Image: Theo Wargo/ Getty Images