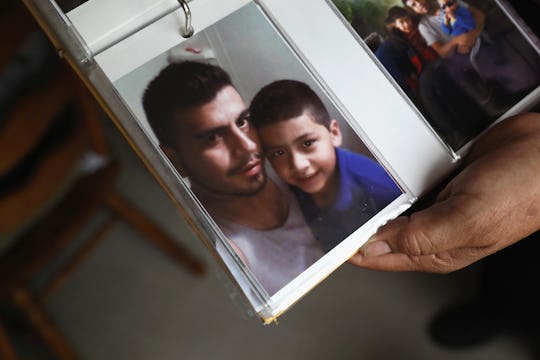 John Moore/Getty Images News/Getty Images
SCOTUS Strikes Down Discriminatory Law Related To Parents
On Monday, the Supreme Court ruled unanimously in the Sessions v. Morales-Santana case. The case, which first made headlines in February 2016, addressed gender discrimination and its relationship to United States citizenship. Now that SCOTUS has struck down one of the last gender discrimination laws left at the federal level, parents are learning just how important the ruling is to themselves and their families.
For those who haven't been following the Sessions v. Morales-Santana case, the conflict is centered on the government's attempts to deport Luis Ramon Morales-Santana, a 55-year-old non-citizen permanent resident with several felony convictions. Morales-Santana argued that he deserves U.S. citizenship because his father was a U.S. citizen, according to the SCOTUS Blog. In 1975, Morales-Santana became a lawful permanent resident when he moved to the United States with his unwed father and mother. Although Morales-Santana's father lived in the United States for years prior to his birth and was a U.S. citizen, his mother was a citizen of the Dominican Republic. After years of living in the United States, the government recently started removal proceedings against Morales-Santana due to criminal convictions he received for robbery, burglary and attempted murder.
In 1952, Congress passed the Immigration and Nationality Act, a law that gave priority to unwed mothers of children born abroad instead of fathers when either were trying to get citizenship for their children. Considering Morales-Santana's parents were unmarried at the time of his birth, the Immigration and Nationality Act directly applied to his case. The fact that Morales-Santana was also born abroad adds another layer of complication to the story. According to the law, a father must have lived in the United States for at least 10 years before the out-of-wedlock child's birth, with five of these years occurring after the father's 14th birthday. In comparison, a mother only has to prove one continuous year of physical-presence to pass on citizenship. And there isn't any justification for this difference outside of the assumption that a mother is more often the primary caregiver in a relationship.
Morales-Santana's father was just 20 days short of that threshold when he returned to his native country of Puerto Rico, therefore making him unable to pass on his United States citizenship to Morales-Santana. Morales-Santana then took his case to court, arguing that this law is discriminatory against men and fathers.
Once the case reached SCOTUS, Justice Ruth Bader Ginsburg wrote the majority decision striking down the discriminatory provisions. In the ruling, Ginsburg said that the assumption that "unwed fathers care little about, indeed are strangers to, their children" is false and that "lump characterization of that kind, however, no longer passes equal protection inspection," according to The New York Times. Although Ginsburg explained that Congress must ultimately decide Morales-Santana's fate, she made it clear that the Immigration and Nationality Act is a law that is unjust to fathers. It's an especially poignant ruling now that Pew Research Center reported that roughly 2.6 million households were led by a single father in 2011. Despite the Immigration and Nationality Act's favorable provisions towards mothers, it's become more and more apparent the plight of fathers also deserve the same consideration and understanding.
To remedy the situation, Ginsburg said that it was Congress' responsibility to find a "uniform prescription that neither favors nor disadvantages any person on the basis of gender," according to the New York Times. In the interim, Ginsburg ruled that the law's "now-five-year requirement should apply, prospectively, to children born to unwed U.S.-citizen mothers," which is the same requirement for fathers. Subsequently, the previous one year law for mothers has been dramatically increased. Ginsburg's decision, which ultimately evens the playing field for both immigrant fathers and mothers, cements her standing as a warrior for gender equality.
In response to the ruling, Sandra Park, senior staff attorney with the ACLU Women's Rights Project, said, according to an ACLU statement:
The court's ruling recognizes that there is no justification for treating fathers and mothers unequally with respect to their parental roles. With two million single fathers currently caring for their children in the U.S., it is high time that this outdated law —rooted in the stereotype that mothers, not fathers, are responsible for their children — is declared unconstitutional. That the court struck down a law governing nationality and immigration also underscores that the government must abide by the Constitution's limits in this arena, as in all others.
Although this decision is a huge step forward for placing equal importance on mothers and fathers, it's a bit of setback for parents on the path to securing citizenship for their children. Now that Ginsburg has righted the gender discrimination inherent in the Immigration & Nationality Act, Congress is left to decide how to proceed going forward. As of Monday, the longer waiting period extends to both fathers and mothers, a duration which is unlikely to be cut shorter with a GOP-controlled congress at the helm.
Ian Millhiser, a Justice Editor at Think Progress, wrote:
Unlike most equality suits, Morales-Santana involves a law that applies a relatively harsh rule in nearly all cases, and a more lenient rule in relatively few cases. Congress clearly intended the 10-year rule to be, well, the rule, and the 1-year rule to be the exception. Under these unusual circumstances, the Court concludes, the proper course of action is to apply the harsher rule universally, rather than rewriting the law to apply the more lenient rule more broadly. That's bad news for Morales-Santana, as it is bad news for child born abroad to unmarried American mothers for the foreseeable future.
Now that deportations are becoming more and more frequent under President Donald Trump's administration, immigration laws are being put under a harsher legal microscope. Thanks to the Sessions v. Morales-Santana case, an outdated provision unjustly favoring mothers over fathers when it comes to granting citizenship was rectified. Although it's a big win for gender equality (and perhaps applicable to custody battles which unfairly favor mothers for no real reason other than gender), the path to U.S. citizenship is still as difficult and confusing as ever. One can only hope immigration reform continues to improve alongside the fight for gender equality.