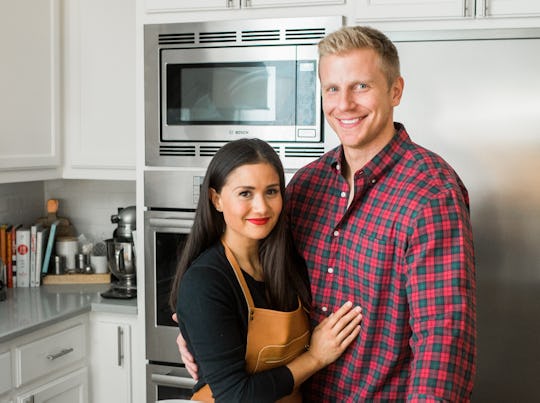 Courtesty of Bertolli
Sean & Catherine Lowe Don't Want To Know The Sex Of Their Second Baby, & Here's Why
Sean and Catherine Guidici Lowe are inarguably an adorable couple. Since they rode an elephant off into the sunset on the Season 17 Bachelor finale four years ago, it has been clear the duo will go against the franchise's grain, and last. "I was so obsessed with Sean," Catherine tells Romper on the phone, with her husband nearby. Catherine (along with Sean) now has even more to become obsessed with, as the couple announced their second pregnancy recently in an adorable Instagram post with their 16-month-old son Samuel. And while they're thrilled to welcome another baby into the family, they've already decided that they won't be learning the sex of their baby before his or her birth.
For many Bachelor Nation fans, Sean and Catherine are the epitome of success post-Bachelor. Their journey of love after the show ended has been public — they got married on TV, after all — and their social media use has allowed fans of theirs to keep up with their lives every step of the way. But on this one piece of news, fans will have to be patient, since not even Sean or Catherine will know who will be joining their family.
The couple tells Romper that they did the same thing with their son Samuel, born in July 2016. It "works" for them, Sean tells Romper. "We think it's exciting especially when your friends and families show up to the hospital and are all excited to see what the sex is," he explains. "We're not the kind of people who have to have everything planned out."
With all that the couple has going on in their lives right now, it's a good thing they can go with the flow. Recently, the pair launched a furniture collaboration with Wayfair, Home by Sean & Catherine Lowe; Catherine is running her own stationery company LoweCo.; and the duo recently partnered with Bertolli Rustic Cut pasta sauces for Italian heritage month. With a toddler and second baby on the way, the Lowes certainly have their hands full.
Even among all the chaos, the trio always makes time for family, Catherine says. "I think us three didn't realize how much of best friends we'd all be," she says. "We love hanging out together."
A huge part of their lives is food, which is a major reason they decided to partner with Bertolli. Catherine says she "adores" cooking, and Samuel tries to be a little helper in the kitchen, too. "Samuel likes to explore the kitchen, whether that's going through the cabinets and taking out little ramekins or little strainers," Catherine explains. "He really likes to create more of a mess, which is fine for me because I'm also messy." Sean, a notoriously unskilled cook who competed on Worst Cooks in America, is usually stuck on clean-up duty.
At first, it was a challenge for the young couple to find a balanced way to split up household duties, but it has led Sean to appreciate all that Catherine does even more, he says. "There are certain things that moms have to do that the dads simply can't help out with, like breastfeeding and waking up five times a night to do that. As a dad, I try to help out wherever I can."
Although it's been a lot of work, "Motherhood has been such a delight," Catherine says. "I was worried during my whole pregnancy that I [wouldn't be] maternal, that I didn't know how I was going to react [to being a mother]."
Despite her worries, Catherine loves motherhood, and it seems like they're doing a pretty darn good job parenting as a team. "Sean and I really get a lot of joy from bringing laughter into our house," she says. "I think that really shows in Samuel and his personality. It's really just nice to be present to really see the changes that Samuel is going through."
Although Samuel is too little to understand that he's going to be a big brother, by the time his sibling arrives he'll be almost 2 years old, which they view as the perfect age gap between siblings. The couple is "very excited" to expand their family, Sean says.
"It's just a completely different perspective on life when you are parents for somebody that you love so much and you know that you'll take care of and love them for the rest of your life," Catherine says.
Check out Romper's new video series, Romper's Doula Diaries:
Watch full episodes of Romper's Doula Diaries on Facebook Watch.