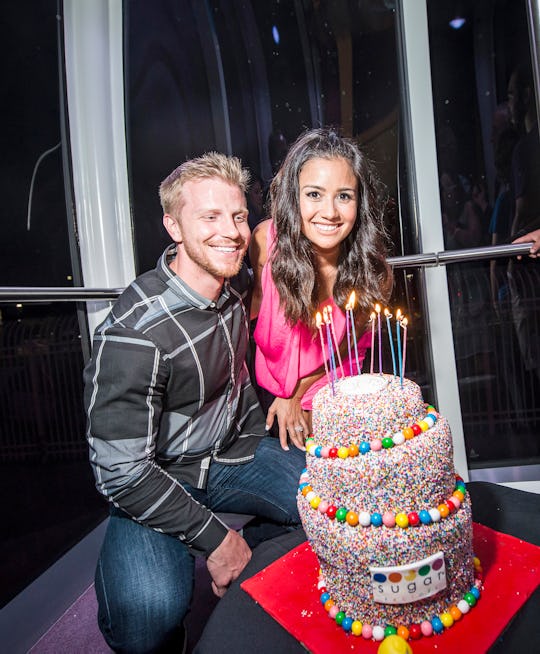 Roberto Gonzalez/Getty Images Entertainment/Getty Images
Sean Lowe & Catherine Giudici Announce They're Expecting Their 2nd Baby In The Sweetest Video Ever
It seems the Bachelor family is getting bigger by the day. On Friday, The Bachelor's Sean Lowe and Catherine Giudici announced that they are expecting their second baby, and fans are excited.
According to E! News, the couple took to social media to break the news in a pair of Instagram posts. Lowe and Giudici each shared the pregnancy announcement on their respective Instagram accounts; the former Bachelor uploaded a video, while his wife posted a photo and video.
In Lowe's video, Giudici can be seen with their 16-month-old son, Samuel Thomas Lowe, sitting on her lap and poking at his mother. According to E! News, Lowe asks Samuel if he could say baby; in response, their little one points to his mom's stomach and says, "Baby!" Giudici laughs and nods her head, repeating "Baby" with a sweet and loving tone.
Being that Samuel is 16 months old, what he said sounded less like "Baby" and more like "Bah-Bah." But that's what makes Lowe and Giudici's pregnancy announcement not only adorable, but precious too. And fans, of course, couldn't be happier for the couple, with one Instagram user commenting on Lowe's post,
Yaaaaaaaay!! I have been waiting!! like we're friends or something[...]
On her Instagram account, Giudici shared an image and a short clip for her pregnancy announcement, with the caption, "BABA NUMBA TWO." In the photo, Samuel is sitting on Giudici's lap. He has one finger on his mom's small baby bump, as she lays back on their beige couch.
The video is taken from the same high-angle shot as the photo. In the clip Giudici points to her stomach and asks Samuel, "What's this?" He points to the bump, and says, "Bah-Bah." Giudici laughs with joy and asks again, "What is it? What's this?" This time, though, Samuel becomes sad and starts to whisper. Giudici comforts him, gives him a kiss, and tells him she loves him. It has to be the sweetest exchange I have ever witnessed that didn't involve me and my toddler son, to be honest.
As one Bachelor fan wrote on Giudici's Instagram post,
Oh goodness! Just when I can FINALLY handle the cuteness overload of Samuel, y'all have another! Congrats!!!
Lowe and Giudici, who wed in January 2014, did not mention a due date with their pregnancy announcement. But, according to US Weekly, it seems the couple may have been prepared in October for the possibility of a second child.
Giudici, who met Lowe on season 17 of ABC's The Bachelor, told US Weekly last month that the couple is getting ready to transition Samuel out of his nursery and into his toddler room. The 31-year-old mom-to-be went on to say,
The nursery is pretty set in case baby No. 2 comes around any time soon but I am excited about creating a big boy room for Samuel.
According to People, Samuel turned 1 years old on July 2, but had his first birthday bash a month early. In an exclusive interview, Lowe told People that parenting Samuel has "been one long learning process for me." The 33-year-old Bachelor alum added,
From changing diapers to knowing when he's tired or when he's hungry or when he has a wet diaper, it's been a lot of fun. But it's also been on-the-job training.
I only have one child, but I am one of three children, so I can say with some certainty that raising two kids will be the equivalent of all hell breaking loss during the last fiscal quarter at a high-end firm. But I have no doubt that the couple is up for the task.
More importantly, I do want to bump up one comment on Giudici's Instagram post that has nothing to do with babies and everything to do with life-altering information. In the midst of all the pregnancy excitement, one fan asks,
I love your sofa...where can I get this? Thanks[.]
Seriously, Giudici. Inquiring minds want to know.