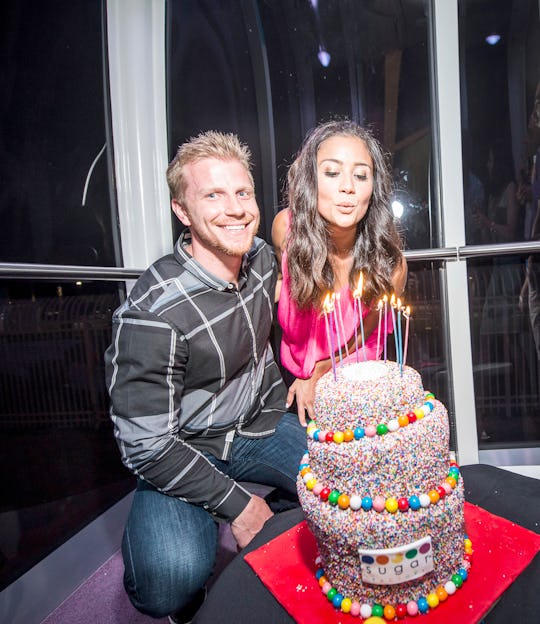 Roberto Gonzalez/Getty Images Entertainment/Getty Images
Sean Lowe & Catherine Giudici Welcome Their Son, & 'The Bachelor' Couple Is Celebrating
One couple who found love on The Bachelor now have something even more exciting than the coveted rose. Sean Lowe and Catherine Giudici Lowe have welcomed their son, they announced over the weekend, and Samuel Thomas Lowe is the first new addition to their growing family. Clearly enamored by their newborn, both Lowe and Giudici tweeted about his recent arrival just minutes apart on Saturday, confirming that he's healthy, and, of course, already capturing hearts.
The two met on the hit dating show in 2012, and got married in at televised ceremony in 2014. Although the soon-to-be dad publicly announced his wife's pregnancy via an Instagram post in December 2015, the two didn't reveal the baby's sex until after Samuel Thomas was born. And it looks like they didn't know whether they were having a boy or a girl until delivery time, either. "He's coming. Or maybe she," Lowe tweeted Friday evening. "But someone is coming. And mama has never looked more beautiful."
And even though Lowe had lots of love for his wife, Samuel Thomas very soon stole the show with his arrival. Both parents seemingly couldn't wait to tell the world, and even though no photos of the newborn are available yet, fingers crossed they're on the way:
In April, Lowe, 32, and Giudici Lowe, 30, headed to Palm Springs, California, for a romantic "babymoon," shortly after their two-year wedding anniversary, People magazine reported. There, they showed that they're just as in love as ever before, joking on social media about wanting to get pregnant all over again. The next month, they both rocked polka dots at a baby shower at their Dallas home, according to E! News. At the time, Lowe told the outlet that they'd have some help once the baby came.
"Her mom and her sister are coming to stay with us for about a month once the baby is born," he said. "I know to most husbands that might sound daunting, but we love them and we're excited about it."
And they've been excited to meet their baby throughout the pregnancy as well, with both of the former Bachelor stars frequently using social media to update fans, like when Giudici Lowe showed off her growing baby bump ...:
... and Lowe boasted about their "nesting" skills:
According to E! News, Lowe and Giudici Lowe are the fourth couple to meet through the Bachelor franchise and later marry. It's certainly not the most common way to meet, but then again, it doesn't look as though theirs is simply a common love. Welcome to the newest member of Bachelor royalty, and congratulation to his parents!