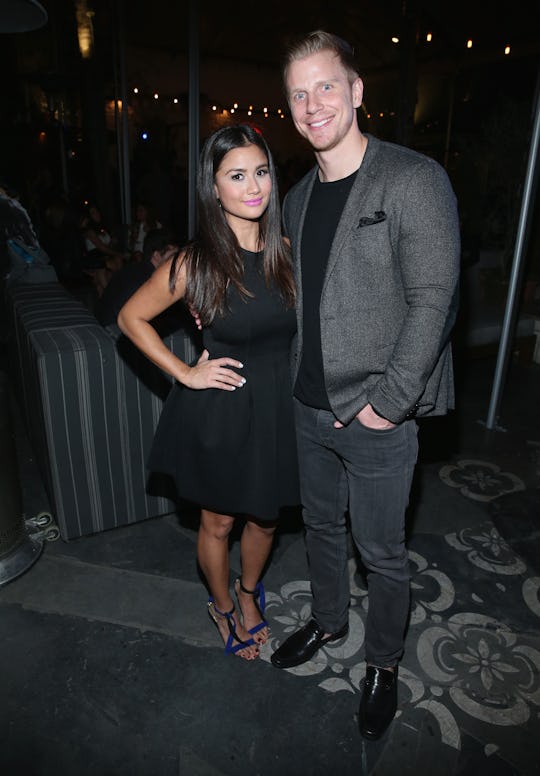 Jonathan Leibson/Getty Images Entertainment/Getty Images
Parents Will Totally Relate To Sean Lowe's Future Dad Plans
Year after year, The Bachelor and The Bachelorette show that fairytales do come true. Take it from The Bachelor alumnus, Sean Lowe, who got engaged to his wife, Catherine Giudici on the show in 2013. Since then, the two have settled down and have had two sons together, 1-year-old, Samuel and newborn, Isaiah, who Giudici gave birth to a few weeks ago. Needless to say, the couple is proof that true love is real, and Sean Lowe's new comments about being a father of two only reiterate this idea that a "fairytale ending" can take a new form with parenthood.
This upcoming Father's Day is a time for people to reflect on the father figures in their lives and everything that those people have done for them. And although fathers can't necessarily do that for themselves, they can use the day to think about how fatherhood has changed them, and appreciate the kids that made them parents.
And Lowe did exactly that in an interview with People, just ahead of this Father's Day this Sunday. In the interview, Lowe revealed that being a father of two boys has definitely changed his life — and threw him for a little bit of a loop when he found out that he was having two boys rather than having one boy and one girl. "I take so much pride in fatherhood," Lowe told People.
Lowe continued, telling People that he never expected he would be a father to two boys:
I was very surprised that we had another boy. I couldn't believe it for a second when I saw after he came out! I was mentally prepared to have a girl.
But that isn't to say that Lowe isn't beyond happy to be the dad to two boys — especially since he thinks Isaiah looks just like him. "Which is great because with Samuel, everybody says he has his mama's face and my coloring," Lowe told People. "So it's nice that I have a kid who looks like me now."
That's definitly one thing that Lowe can be thankful for this Father's Day. On the other hand, Giudici has already expressed her love and appreciation for Lowe ahead of his second Father's Day (you can't argue that this couple isn't productive and gets things done). On Thursday, Giudici took to Instagram where she shared the sweetest Father's Day message dedicated to her husband and his skills as a father just a few days early, according to People. "This man has been so extremely patient, attentive, and loving towards me and our boys since I got pregnant with Isaiah," Giudici captioned the photo. "Father's Day is on Sunday but I really appreciate everything he does for us on the daily."
With both Lowe and Giudici only saying the absolute cutest things about parenthood, it shouldn't come as a surprise to anyone that they're already thinking of expanding their family to be a little bit larger. In an interview with Us Weekly earlier this month, Lowe told the magazine that he and his wife would "probably" try for a third child. "...I would like to try to see if we could get a little girl that looks like mama," Lowe said.
Awwww. Not only is that a super sweet comment about his wife, but it's so relatable — of course a dad of two boys would want to experience what it's like to be a dad to a little girl. But with all of that said, Lowe still can't believe that he is a dad and has a family of his own, according to People. Lowe said:
I feel too immature to have a family sometimes. But our goal is to fill our home with laughter and love, and we do that every day. It's fun to be goofy, while still maintaining discipline.
Although Lowe might feel that being a father is a little "bizarre," it's clear that he is more than happy being a dad of two little boys — and possibly one more in the near future.