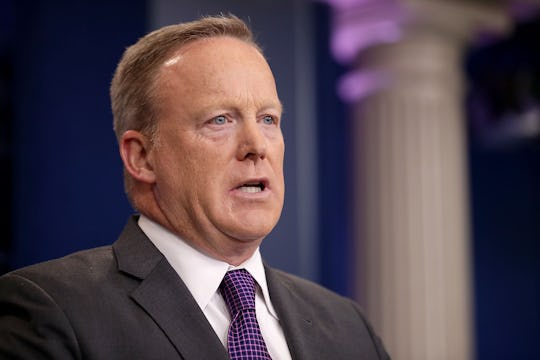 Chip Somodevilla/Getty Images News/Getty Images
Sean Spicer Resigns Only Six Months Into New Administration
On Friday morning, shortly after President Donald Trump appointed Anthony Scaramucci as his new communications director, White House Press Secretary Sean Spicer reportedly resigned his post. The New York Times reported that the timing was no coincidence. Sources said that Spicer "vehemently disagreed" with Scaramucci's appointment, and told Trump it was a "major mistake." Trump reportedly wanted Spicer to remain in his position, but he declined. Scaramucci, a Wall Street financier, is a longtime supporter of Trump, and advised him during the presidential transition. According to Bloomberg, he's been considered for multiple appointments within the administration.
Update: During a press briefing on Friday afternoon, Scarmucci announced that Deputy Press Secretary Sarah Huckabee Sanders would replace Spicer.
Politico has reported that Reince Priebus blocked Scaramucci from other posts, and his hiring could be a sign that the chief of staff has worn out his welcome in the Trump administration. One source put it more bluntly: "This was a murdering of Reince and Bannon. They said Anthony would get this job over their dead bodies." Scaramucci will replace Mike Dubke, one of the rare Trump appointees who didn't come from the president's inner circle of friends and family. Dubke's abrupt resignation in May, and his subsequent replacement by Scaramucci, highlights Trump's fondess for surrounding himself with yes-men, and calls into question his ability to cooperate with outsiders.
The shakeup comes at a time when White House communications are becoming increasingly erratic. Spicer literally hid in the bushes to avoid reporters in May, press briefings are now held off-camera, and Trump's considered canceling them altogether, citing his staff's inability to speak accurately. Venerable news organizations have been banned from press briefings as retaliation for publishing unflattering — but accurate — reports on the president, and early morning social media tirades containing hashtags, emojis, and completely made-up words are now considered official White House statements.
Communication within the administration has also been problematic; Trump and his surrogates frequently offer conflicting statements on everything from how his budget would work, to why he fired former FBI Director James Comey, to whether or not he disclosed top-secret military intelligence to Russian officials. Now more than ever, with the Russia investigation reaching fever pitch, it's time for Trump to get his house in order and focus on the two traits his administration is most sorely lacking: transparency and unity. While it's unclear whether Scaramucci can help with the former, Spicer's departure shows that the latter should not be expected any time soon. Perhaps Trump should focus less on loyalty and more on assembling a staff that can work together.