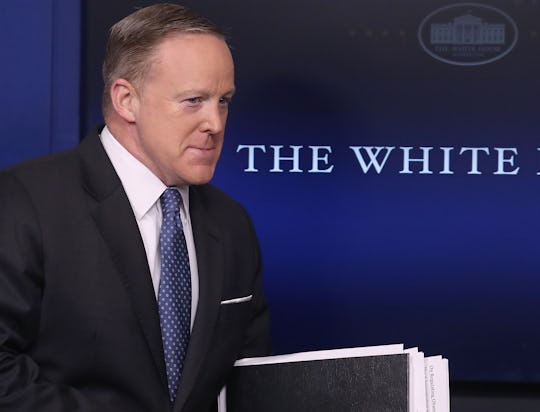 Mark Wilson/Getty Images News/Getty Images
Sean Spicer Makes Series Of Holocaust Blunders
Guess who's back in the news cycle for saying something pretty outrageous? On Tuesday, Sean Spicer justified the recent Syrian missile strike by saying Hitler didn't use chemical weapons — which is, of course, completely untrue, and also, maybe not the best comparison to draw in the first place.
According to The Intercept, when Spicer tried to defend the missile strike in Syria ordered by President Donald Trump, the White House Press Secretary told reporters that not even Adolf Hitler used chemical weapons during World War II. When he was asked to clarify such an absurd claim, Spicer said that he meant that Hitler didn't drop chemical weapons on towns full of innocent German citizens. Here's an idea — maybe just don't compare anything the leader you're attacking is doing to Hitler at all, as a general benchmark for statements in the future.
In addition, The Hill reported that Spicer faced criticism Tuesday because he referred to concentration camps as "Holocaust centers," in the process of further clarifying the Hitler chemical weapons claim. In fact, the White House has released several clarifications since the press conference occurred. Spicer really isn't having a great day, is he? It's probably fair to say Melissa McCarthy and Saturday Night Live are going to have a field day with this one.
The New York Times reported that Spicer specifically said:
We didn't use chemical weapons in World War II. You know, you had someone as despicable as Hitler who didn't even sink to using chemical weapons.
He then acknowledged that Hitler did, in fact, use chemical agents against his people, but argued that there was a difference between that and President Bashar al-Assad of Syria's actions. And both during the daily briefing and in the immediate aftermath of it, the social media world was both infuriated by Spicer's remarks, and amused that Spicer seemed to have tripped up his words during a press briefing yet again.
Actor Kumail Nanjiani tweeted, "Sean Spicer's only defense can be 'I'm not racist, I'm just terrible at communication which is THE ENTIRETY OF MY JOB.'"
Author and commentator Roxane Gay wondered, "At what point does Spicer get fired? And can someone please give him a 6th grade history textbook!"
BBC Radio presenter Nick Robinson tweeted the suggestion, "Top tip to politicians: Don't use Hitler to make your point. Never ends well. Don't believe me? Ask Sean Spicer or Ken Livingstone"
And Twitter user @Diane_7A had some fun linking Spicer's statements to the recent United Airlines controversy, tweeting, "Sean Spicer is the United Airlines of people."
One of the statements Spicer made after the briefing was as follows, as posted to Twitter:
In no way was I trying to lessen the horrendous nature of the Holocaust, however, I was trying to draw a contrast of the tactic of using airplanes to drop chemical weapons on innocent people.
Senior news editor and writer for NBC Nightly News Bradd Jaffy tweeted yet another clarification to the statement, tweeting, "WH just sent out an updated clarification from Spicer, changing 'innocent people' to 'population centers' at the end."
Finally, Jaffy tweeted what he called, "what appears to be a 4th Hitler clarification from Spicer."
The clarification took out the "however" in the middle, and added the sentence, "any attack on innocent people is reprehensible and inexcusable."
As The New York Times reminded readers, Hitler used a series of extermination camps with gas chambers, "to kill millions of Jews and others deemed to be harmful to the German state." That's maybe the sort of comparison Spicer should steer clear of in the future.
And while chemical weapons warfare and any talk of it is no laughing matter, it's likely safe to say that actress Melissa McCarthy — known for her portrayal of Spicer on SNL — would make Spicer's bungling of the situation pretty funny, should the show decide to refer to it during McCarthy's hosting appearance in May.