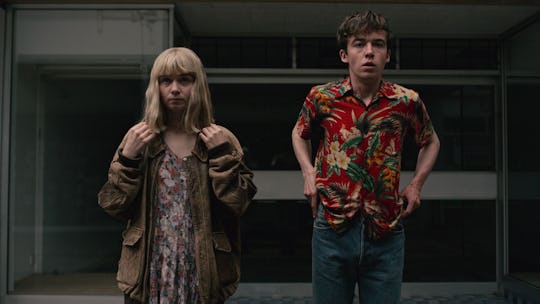 Netflix
Here's What 'The End Of The F***ing World' Season 2 Could Look Like
The first season of The End of the F***ing World ended on not quite a cliffhanger. The fate of its protagonists James and Alyssa seemed certain, if unhappy. They had reached the end of the line in their crime spree and the police were closing in. There was no escape, no matter how hard they tried. But the final episode cut off before viewers could see exactly what happened, which left the door open for the story to continue. These Season 2 theories about The End of the F***ing World try to envision how that could happen.
The show hasn't been renewed for a second season yet, however. It could easily be a single season effort that told a contained story with an ambiguous ending. Since it was also based on a graphic novel, it would make sense if the show didn't elaborate on its finite source material. But there's always a chance that the show could continue, because TV adaptations often push past the endings of the novels they're based on to strike new ground (like Netflix's 13 Reasons Why and HBO's The Leftovers).
The final episode of The End of the F***ing World finished with James telling Alyssa to save herself and pin all their crimes on him. To sell that story, he hit her in the head and took off running down the beach with a gun in his hand, drawing the attention of the cops. As he ran, the screen went blank. A gun fired. One could make an assumption about what happened, but there are other possibilities. So without further adieu, here's where I think the show could go from here...
Alyssa Alone
The comic is more explicit about the fact that James dies, as explained by Reddit user yumario, but perhaps the show could continue without him. It could follow Alyssa as she recovers from James' death and the events of the first season, weathering the fallout and figuring out the rest of her life. It would be controversial because James and Alyssa's chemistry was the driving force (and best part) of the series, but Alyssa was definitely a strong enough character to carry a season on her own.
Law & Order
If the show does have a second season, then maybe James will have only been injured (a theory proposed by Redditor ArkhamKitty) in the altercation with the cops. Season 2 could pick up with James and Alyssa on trial, following them on to either jail time or an unexpected release. James did commit murder to defend Alyssa, so with the right lawyer, who knows? He could end up getting off for the crime after all. There's definitely more room for the show's dark comedy there, but it would take away from the momentum of Season 1 and its ending, as Reddit user TylerJohnson10946 pointed out.
Alternate Universe
While Reddit user 1100H19 was a fan of the show's ending, they also couldn't resist wanting to see more of James and Alyssa together. They proposed the idea of a second season where the couple was able to escape together on Alyssa's father's boat, continuing to evade the police or even being somehow cleared of their crime and returning to school. It would keep the original ending as it was while exploring an alternate option. It would be a little untraditional (and edge into fan fiction territory), but it would be a way to have one's cake and eat it too.
With no guarantee of a second season for The End of the F***ing World, fans can choose any ending they want for James and Alyssa. If they find closure in the idea of James' death, his arc ending with him transformed by his relationship with Alyssa, then they have that. If they want to imagine both kids got out of it OK, then they have that too. There's enough left unanswered that if the show did go on, then there could be more story to tell.
Check out Romper's new video series, Romper's Doula Diaries:
Watch full episodes of Romper's Doula Diaries on Facebook Watch.