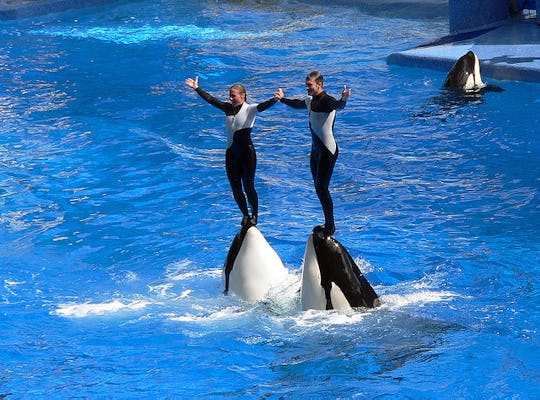 Stig Nygaard/Flickr
SeaWorld Ends Controversial Shamu Show In San Diego, Hoping To Revive Attendance At The Once-Popular Theme Park
The well-being of whales of captivity is always a contentious topic and today is a good day for activists. SeaWorld announced that they are shutting down the Shamu Show. The killer whale show, and SeaWorld's attendance in general, has been slipping since the release of Blackfish, a 2013 documentary that highlighted the treatment of whales at the theme park and has aired on CNN numerous times. SeaWorld president and CEO Joel Manby, said in a statement that the decision to cut the show wasn't about responding to activists. Manby said that, "We didn't do anything in San Diego because of the activists. We did it because we're hearing it from our guests." He continued saying that guests want "experiences that are more natural."
In California, the treatment and breeding of killer whales has been a very big deal. On Friday Representative Adam Schiff (D) announced the federal Orca Responsibility and Care Advancement Act, which would prohibit the "breeding, wild capture, and import or export of killer whales for the purposes of public display." The bill would be a federal one, following an act passed earlier this year in California which would have prevented SeaWorld from expanding in San Diego unless they promised to stop breeding the whales in captivity. Schiff said in a statement today that: 
The decision by SeaWorld to phase out killer whale shows in San Diego is a welcome step along the path towards ending the captivity of these magnificent creatures. Much more needs to be done, however, and I would urge the company to curtail the breeding of their orcas and partner in the creation of ocean sanctuaries. The fact still remains that as long as SeaWorld holds orcas in captivity, the physical and psychological problems associated with their captivity will persist.
The closure of the show is specific to the San Diego park. It's not clear if they will fade the Shamu Show in its other parks in San Antonio, Texas and Orlando, Florida by 2017 as well, though it would be an odd move to not have the shows be consistent across all three parks. People seem to be happy with the decision, either way. 
SeaWorld profits have taken a blow in the past few years, for sure. After opening at $33.52 a share when it went public in April 2013, the stock has fallen to $17.91 by the close of trading today. The company is otherwise valued at 41.64 billion. Even if the decision to stop the show was more about getting people into the park than animal welfare, it's one step closer to free for those killer whales.