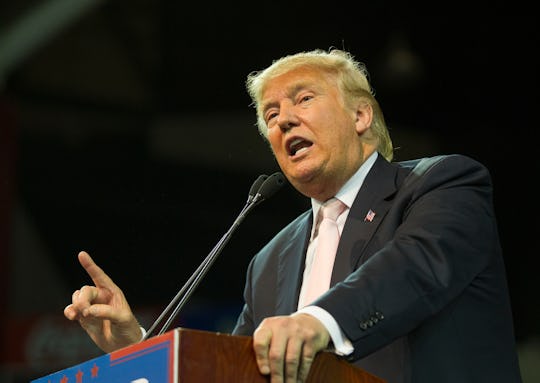 Secret Service Tackled A Photographer At A Donald Trump Rally & That's Really Not Cool
There's a thin line between patriotism and inappropriateness. During this election cycle that line is getting thinner and thinner. On Monday, Secret Service officers tackled a photographer at a Donald Trump rally — which is a good sign that everyone needs to step back and catch their breath. Things are definitely getting out hand, right?
Here's a little background. On Monday night at Radford University, Trump was speaking to about 3,000 supporters while a small group of about 30 protestors chanted "No more hate, let's be great" in support of the Black Lives Matter movement. They were echoing Trump's campaign slogan — but no one, it seemed, got the joke. Especially Trump. Not surprisingly, the protestors were silenced quickly.
Then, things got worse. Christopher Morris, a photographer for Time magazine told The Wall Street Journal that he was trying to leave the area when he and one of the on-site Secret Service officers suddenly found themselves in a "shoving match." Morris told the outlet that the agent reportedly "grabbed him by the neck, and threw him to the ground." Romper has reached out to the Trump campaign for comment and is awaiting a response.
By Monday night, CNN had reported that the local Secret Service field office was in the middle of investigating the incident. "[We are] aware of an incident involving an employee," said a spokesperson. "Our local field office is working with their law enforcement partners to determine the exact circumstances that led up to this incident. The Secret Service will provide further details as warranted once additional facts surrounding the situation are known."
It doesn't matter where you fall on the political spectrum (or maybe it does) but when a leading Republican candidate gets mixed up in business like this (even indirectly) — that signals a larger problem.
Trump himself likes to talk about the evils of political correctness, but he's the one who removes detractors out of press conferences, one bye one. He kicked out Jorge Ramos. He kicks out anyone. With an atmosphere like that looming overhead at your rallies, would you expect anything other than Monday's debacle to occur?
According to The Washington Post, Trump's reps have reportedly urged supporters to call for "help" during rallies. An announcer at one of those rallies allegedly told supporters "not touch or harm the protester[s]" but instead draw the attention of security officers.
Just think about that for a minute. According to several witnesses and news outlets, Trump on Monday also reportedly urged his security detail to "get them out." It makes you rethink the policy of giving any leading candidate a federal security detail. If they're not open to discourse, then what's the point? Besides, the incident with the photographer reportedly had nothing to do with making a statement — it was just another guy trying to do his job.
Whether you support a candidate who fosters and environment where that sort of behavior by security is appropriate or not is one thing. But when it comes to picking out someone who can lead the country, perhaps it's better if we give these sorts of incidents a more critical eye, in order to figure out what that means for the rest of us.