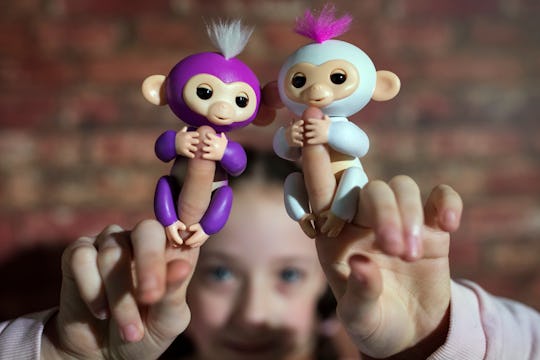 Dan Kitwood/Getty Images News/Getty Images
Secrets To Finding Fingerlings This Holiday Season
Every year, there's another popular holiday toy that shows up on every kid's wish list — and sends parents into a frenzy as they fruitlessly scour empty shelves for the coveted item. This year (as you're probably all too aware), Fingerlings are the white-hot Christmas craze, with some shrewd and heartless types even buying up the the finger-gripping interactive robots and upselling them at ridiculous prices. But are there any secrets to finding Fingerlings at this late hour in the season? Short of taking out a second mortgage on your house or getting into a knock-down, drag-out brawl at the toy store, that is.
At this point, sadly, the chances that you can just roll up to your local toy store and leave with the object of your kid's desire are slim, but that doesn't necessarily mean scoring a Fingerling is Mission: Impossible. Also at this point, we're pretty sure you know exactly what a Fingerling is, but just in case: They're cute, colorful robotic figurines (meant to look like a pygmy marmoset, apparently) that hold onto your finger and respond to touch with lifelike sounds as snores, kisses, chattering, and (of course) farts. Because kids just can't get enough of that stuff, sigh.
Unfortunately, a lot of little ones hoping to find their very own ill-mannered marmoset under the tree might be in for major disappointment. But you might still be able to get your hands on one of the newer models, such as the new unicorns that were just introduced over the weekend (Alika, Gigi, and Gemma) and are exclusive to Toys 'R' Us. There's also a selection of new two-toned Fingerlings that just hit the shelves, including some exclusives (like Ava, also at Toys 'R' Us). And according to the Fingerlings Facebook page, there are even more new colors that are rolling out this holiday season, plus more to come in the coming year, so if you are super diligent, you can hopefully score one.
Some moms also recommend checking Amazon every day, as the online retailer releases Fingerlings in waves. At the time of this writing, we were able to find a Zoe Fingerling (turquoise with purple hair) for $23; however, the only shipping option that would deliver it in time for Christmas brought the total to over $100, which seems like an awfully hefty price tag for something that's only supposed to cost around $15. Other sites like Ebay are an even pricier way to go, and many of the "Fingerlings" for sale are fake. (You can find a list of authentic characters and colors here and this post from Fingerlings manufacturer WowWee also details how not to fall for faux Fingerlings.)
When we reached out to a WowWee spokesperson for tips on tracking down the prized plaything, her advice proved there really is no magic method:
"We recommended consumers continue checking with their local retailers and can also use our website to find links to purchase product," August told Romper.
"Consumers can click through the 'buy now' button and select the character they are looking for to find where it is sold."
Other committed consumers have had success using the site Now In Stock, which send users alerts when the product they're looking for is available online (of course, that means dealing with last-minute shipping fees). But if, by some miracle, you call up Target (or wherever) and find out that — lo and behold! — they're in the process of unpacking a new shipment, make sure you're there in a New York minute to drastically increase your odds of victory.
Whatever you do, try to avoid getting ripped off by mercenary scrooges who are ruthlessly making hundreds of dollars in profits, as well as sketchy third-party sellers. And remember, even though obviously having that all-important toy on Christmas morning is sort of the whole point, if your kid is still intent on getting a Fingerling after the holiday it should be much easier to find one by then. (Perhaps you could add an apology note from Santa?)
Check out Romper's new video series, Romper's Doula Diaries:
Watch full episodes of Romper's Doula Diaries on Facebook Watch.