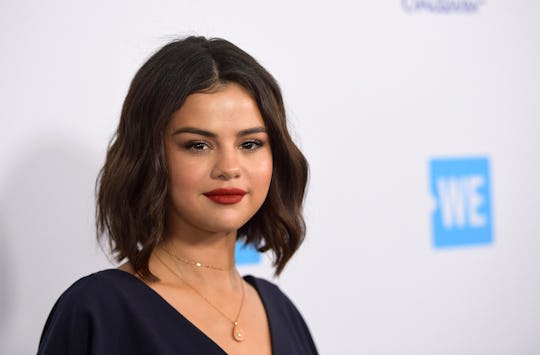 Matt Winkelmeyer/Getty Images Entertainment/Getty Images
Selena Gomez Has Been Dethroned As The Most-Followed Person On Instagram
Guys, it looks like there's a new top dog in the world of Instagram. After beating out her friend, Taylor Swift, back in March 2016, singer Selena Gomez has boasted the most Instagram followers for more than two years. But alas, it seems the end of an era has come at last. Because as of Monday, Oct. 29, Selena Gomez has been dethroned as the most-followed person on Instagram.
As it turns out, Cristiano Ronaldo — a professional soccer player for Portugal national team, for fellow non-sports-fans — has claimed Gomez's spot at number one. The 33-year-old soccer star, surpassed Gomez on Monday with a staggering 144,320,756 Instagram followers compared to Gomez's 144,312,745 followers, according to E! Online. Which, wow. What's 8,000 measly followers when you have more than 1.4 million altogether? For the record, it looks like he's number eight on Twitter, too — compared to Gomez's spot at 15th place.
The thing is, Gomez might not even know or care about her epic dethroning. As Elle reported, Gomez announced in September that she would be taking a break from social media. "Taking a social media break. Again," the singer wrote via Instagram. "As much as I am grateful for the voice that social media gives each of us, I am equally grateful to be able to step back and live my life present to the moment I have been given. Kindness and encouragement only for a bit! Just remember- negative comments can hurt anybody's feelings. Obvi."
The announcement about her social media hiatus came just weeks before she checked into a rehab center for mental health reasons. As People reported, Gomez decided to seek treatment earlier this month after she suffered an emotional breakdown while in the hospital. (Contrary to the popular opinion that it had anything to do with her ex, Justin Bieber, marrying Hailey Baldwin.) Apparently, she was hospitalized twice within a few weeks prior to seeking mental health treatment for having a low white blood cell count — a possible side effect for patients who have had a kidney transplant.
A source told People Gomez had a panic attack while in the hospital that second time. "She has had a tough few weeks and the panic attack in the hospital was the tipping point," the source explained. "She realized she needed to seek additional help for her ongoing emotional issues. She's surrounded by close family and has a lot of support. She's doing better now and is seeking treatment on the East Coast."
Clearly, Selena Gomez has far more important things to worry about these days than whether or not she's currently the most-followed person on Instagram. She even addressed how inconsequential these numbers were during an Instagram Live video posted about a month ago, Us Weekly reported. "None of this matters," she said at the time. "I don't care how many followers I have. I don't. I don't care. I could have none tomorrow. Makes no difference. It's just a number and it's insane so many people are obsessed with a number. It's like, chill out." Amen, sister.
So congrats to Cristiano Ronaldo for his new "title." Coming from someone who only has 144 followers, it really is an impressive feat. In the meantime, though, I'm sending positive vibes to Gomez as she continues on the path to recovery. You've got this, girl. And you're still number one in the eyes of so many people.