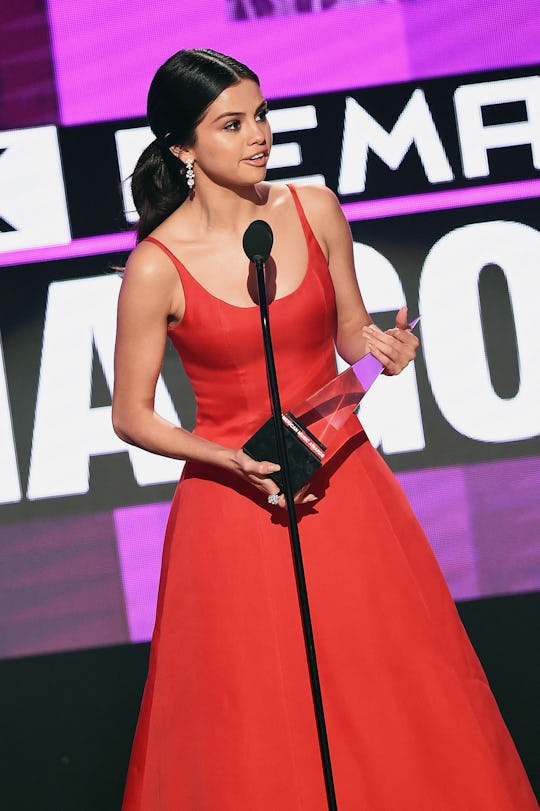 Kevin Winter/Getty Images Entertainment/Getty Images
Selena Gomez's Speech At The AMAs Included This Important Message
On Sunday, Selena Gomez took home the American Music Award for Favorite Pop/Rock Female. It was a big win for Gomez in so many ways, and Selena Gomez's speech at the AMAs included so many brave, brilliant quotes — but none more powerful than this: "If you are broken, you do not have to stay broken." Gomez surprised many be even showing up to Sunday night's AMAs, given that it marked her first public appearance since going back into rehab for mental health and depression just this past October. Gomez recently went public with her health issues in 2015, after having spent two weeks in rehab in 2014. Gomez revealed she has lupus, and as a result, suffers from panic attacks, anxiety, and depression. In August, her symptoms forced Gomez to cancel the rest of her Revival tour in Europe and South America, specifically citing her mental health.
What makes Gomez's speech — and this line in particular — so important is that she brings a very public face to mental health issues. As someone who also suffers from anxiety and depression, I watched in awe Sunday night as Gomez laid bare her soul about her depression — a mental health condition that affects as many as 16.1 million people in the United States each year, according to the National Institute of Mental Health.
Speaking to People in August, Gomez spoke about taking time off from her music to focus on her mental health and getting better:
As many of you know, around a year ago I revealed that I have lupus, an illness that can affect people in different ways. I've discovered that anxiety, panic attacks, and depression can be side effects of lupus, which can present their own challenges.
Gomez was nominated for two awards at the AMAs: Artist of the Year and Favorite Pop/Rock Female. Gomez looked absolutely stunning, classically styled from head to toe: A gorgeous, simple scoop neck red gown, a simple yet stylish ponytail and center pair, and a pair of sparkly dangle earrings. Gomez made accepting her award look simply effortless, despite the challenges she must have faced to even come to the AMAs Sunday night.
Her fans were quick to show their love for Gomez on Twitter as she thanked them for their patience and support:
Even those who weren't fans could appreciate how moving and powerful Gomez's AMAs acceptance speech was:
Thank you, Selena, for speaking so bravely about your mental health and your fight to stay above it.