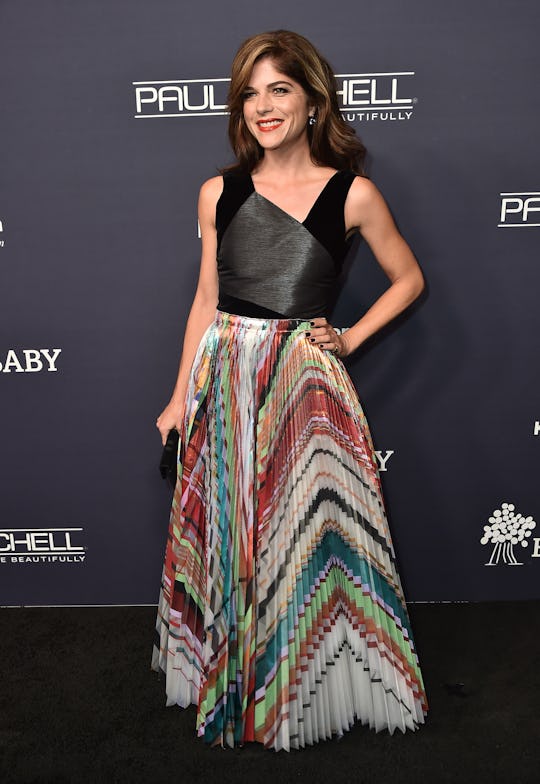 Frazer Harrison/Getty Images Entertainment/Getty Images
Selma Blair Shares Multiple Sclerosis Diagnosis & Thanks Her Support System
Selma Blair is opening up about something she's been struggling with for quite a long time. In an emotional Instagram post this weekend, Selma Blair disclosed her recent multiple sclerosis diagnosis. The actress shared a multitude of details about living with MS, putting an emphasis on the support people in her life have provided.
According to the National Multiple Sclerosis Society, MS is a disease in which the body's immune system attacks the central nervous system. Basically, the system that is meant to keep the body healthy "mistakenly attacks" the brain and spinal cord, which can eventually cause a decline in function of basic capabilities, Healthline adds. Though MS is incurable, there are many treatment options available, as seen on the National MS Society's website. The cause of the disease is unknown, BBC reported.
Alongside a mirror selfie, taken at a wardrobe fitting for her Netflix show Another Life, Blair opened up about her diagnosis. "I have #multiplesclerosis. I am in an exacerbation," Blair wrote on Instagram on Saturday. (An MS exacerbation is a period in which new symptoms appear or old ones flare up, according to Everyday Health.) "I am disabled. I fall sometimes. I drop things. My memory is foggy. And my left side is asking for directions from a broken gps," Blair continued. "But we are doing it. And I laugh and I don't know exactly what I will do precisely but I will do my best."
Blair, who said she was diagnosed with MS on Aug. 16 of this year after experiencing more than a decade of symptoms, opened up about many of the stressful side effects she has experienced since then. "It can be overwhelming in the beginning," she wrote, adding that all she wants to do sometimes is sleep. "But I am a forthcoming person and I want my life to be full somehow. I want to play with my son again. I want to walk down the street and ride my horse." It is heartbreaking to learn that she has not been able to do everyday things that so many people take for granted — especially playing with her son, Arthur, 7, who she shares with her former partner Jason Bleick, according to The Hollywood Reporter.
Despite all the symptoms, Blair is reassuring fans that she staying positive, thanks to all the help her friends have provided. "I have MS and I am ok. But if you see me, dropping crap all over the street, feel free to help me pick it up," she wrote. "It takes a whole day for me alone. Thank you and may we all know good days amongst the challenges."
In the post, Blair gave personalized shoutouts to a slew of friends who have helped her get through this rough time, including actors Jaime King, Sarah Michelle Gellar, and Freddie Prinze, Jr., as well as her friend Elizabeth Berkley Lauren who "forced" her to see her brother Dr. Jason Berkley, a neurologist who diagnosed Blair after discovering lesions on her MRI.
But she gave the biggest shoutout of all to Allisa Swanson, the costume designer for Another Life. Blair opened the post by expressing thanks to Swanson, who makes it possible for Blair to play Harper Glass on the Netflix show. She wrote:
I was in this wardrobe fitting two days ago. And I am in the deepest gratitude. So profound, it is, I have decided to share. The brilliant costumer #Allisaswanson not only designs the pieces #harperglass will wear on this new #Netflix show , but she carefully gets my legs in my pants, pulls my tops over my head, buttons my coats and offers her shoulder to steady myself.
Numerous people provided Blair with messages of support on social media, many of whom shared their own MS diagnoses.
Even though Blair is facing so many difficulties with her multiple sclerosis diagnosis, it's clear that between her friends and her fans, she has an incredible support system that will help make living with MS as smooth as possible.