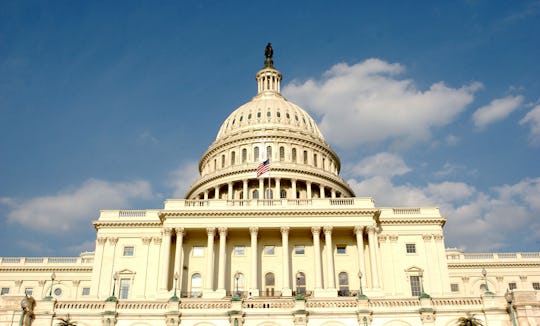 Stefan Zaklin/Getty Images News/Getty Images
Senate Casts First Vote To Repeal The ACA
On Tuesday, the U.S. Senate gathered in Washington, D.C. to determine the fate of President Obama's signature health care law, the Affordable Care Act. The Senate's effort repeal the ACA succeeded for the first time in a procedural vote on Tuesday, and Senate Republicans can finally breathe a sigh of relief at getting something done, while Senate Democrats have been left scrambling for a plan before Congress takes their August break. Even in the hours leading up to the vote, many Senate Republicans had no idea for what they were voting, thanks to ACA repeal legislation crafted largely in secret.
Now that the Senate's latest attempt to start the repeal of the Affordable Care Act has succeeded — after a nearly eight-year battle — what's does this mean for the average American? Senate Majority Leader Mitch McConnell's latest stab at health care reform had been dubbed a "skinny repeal," of Obamacare — and true to its name, the bill has been light on details. According to NBC News, the "skinny repeal" would likely remove the individual and employer mandate as well as the medical device tax currently under the ACA. According to the latest CBO estimates, a repeal of the ACA could leave 15 million fewer Americans without health insurance coverage, with many seeing as much as a whopping 20 percent increase in premiums.
Votes fell largely along party lines, with some notable exceptions. Senators Lisa Murkowski and Susan Collins voted no, of Alaska and Maine, respectively. Both Senators had been outspoken in their criticism of efforts to repeal and replace the ACA. Meanwhile, Arizona Sen. John McCain flew back to D.C. just for the vote following a brain cancer diagnosis last week. McCain voted yes; his vote was exceptionally loaded in the wake of his diagnosis and has been noticed and criticized on social media following his vote.
McCain's vote was critical to the success of Tuesday's vote as the votes came down to the wire for Republicans. Another crucial vote came down to Wisconsin Sen. Ron Johnson, who took a very long time to cast his vote on the Senate floor. Johnson ultimately voted for the procedure vote to begin the debate to repeal and replace the Affordable Care Act.
Even though Tuesday's procedural vote passed, it didn't immediately spell the complete end of the Affordable Care Act — as with so much in the Senate, it's far more nuanced. Tuesday's vote was not "Do you love Obamacare? Yes or No" and more "Do you want to repeal Obamacare? But before we do, let's debate about it for who knows how long because the dog ate our health care homework on the way to the Capitol this morning."
Basically, Tuesday's vote has started the ball rolling on repealing the ACA, which Trump supported by bleating out to the GOP to "let Obamacare fail." So far, the GOP has offered up virtually nothing that stands a chance at actually replacing the ACA, so while Tuesday's vote began the "repeal now, replace later" plan, Republicans don't have that whole "replace" part figured out yet. Tuesday's vote was sloppy governance at its best, and is now literally a matter of life or death for millions of Americans.