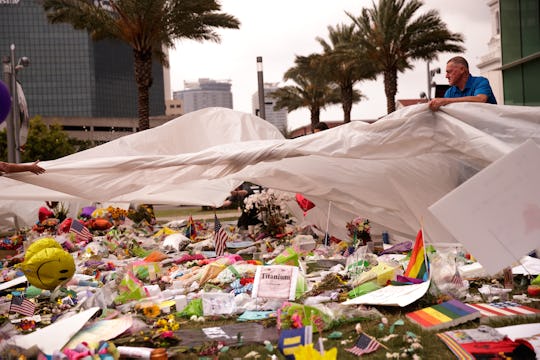 Drew Angerer/Getty Images News/Getty Images
Senate Will Vote On Two Historic Gun Safety Measures, & It's A Huge Step Forward
Connecticut Sen. Chris Murphy's filibuster ended Thursday after Democrats received assurance that gun violence prevention laws would actually get a vote. The Senate will vote on two historic gun safety measures, an indication that Democrats and Republicans may be able to take meaningful action in partnership to keep guns out of the hands of terrorists and criminals in the United States.
Murphy led Democrats in a 14-hour, 50-minute filibuster that started Wednesday morning and ended after 2 a.m. Thursday, NBC News reported. The senator said he launched the filibuster to protest "the ongoing slaughter of innocents" without meaningful legislative intervention from Congress. For Murphy, the fight for gun reform is personal: according to CNN, he was Newtown's representative when the 2012 attack on Sandy Hook Elementary killed 26 — most of those killed were children. He wasn't alone in his efforts, though: the New York Times reported that nearly every Democratic senator joined Murphy's long filibuster in response to the terrorist attack in Orlando.
The strategy worked: Murphy got confirmation that two critical gun safety measures would go to a vote, according to NBC News. The Senate will decide whether to permit individuals on the federal terrorist watch list to secure gun licenses. They'll also vote to determine whether "gun shows and internet sales" should be forced to require background checks for every prospective customer.
Senators are already working across the aisle to develop a compromise. Pennsylvania Sen. Pat Toomey, a Republican, and Everytown for Gun Safety (supported by former mayor of New York Michael Bloomberg) are collaborating on a proposal for reform that's pleasing to both parties, The Washington Post reported. Two other senators, Texas Sen. John Cornyn, a Republican and California Sen. Dianne Feinstein, a Democrat, attempted to draft legislation together to give the attorney general greater authority over who has access to guns, but they haven't been able to find enough common ground to move forward in tandem. Feinstein's approach is still being championed by Democrats, while Toomey and West Virginia's Democratic Sen. Joe Manchin are leading the charge to expand background checks.
Even though a number of senators are committed to working toward gun law reform, it's still critical for citizens to help propel change. Anyone interested in calling or writing to senators can find full contact information on the United States Senate website. It's never too early to contact House members, too: find contact info for a representative by using the search tool on the United States House of Representatives website. If enough Americans call for reform, it's likely they can force Congress into a serious and comprehensive response — before the next tragedy.