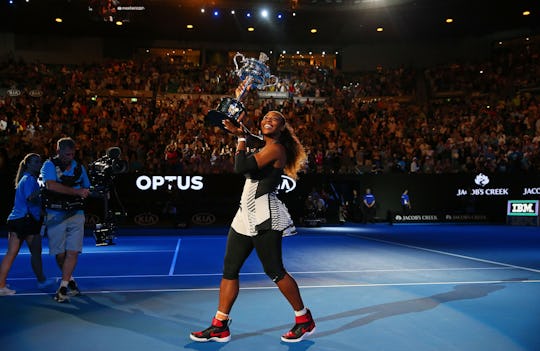 Scott Barbour/Getty Images Sport/Getty Images
Serena Williams Is "Waiting" To Find Out Baby's Sex
Tennis champ Serena Williams may have accidentally announced her pregnancy in a recent Snapchat post she didn't actually intend to make public, but it doesn't sound like the same the same thing might happen when it comes to revealing whether she's carrying a boy or a girl. That's because Serena Williams and Alexis Ohanian are waiting to find out their baby's sex, according to Us Weekly, and seem to be more than happy to keep the news a surprise until she delivers.
The super sweet engaged couple stepped out together on the red carpet at the Met Gala in New York City Monday night, marking their first official appearance together as parents-to-be. Williams looked predictably fabulous in a green Versace dress that showed off her growing bump, while Ohanian made for a very dapper date in a black tuxedo. Unsurprisingly, the two looked super excited to discuss their growing family, and although many parents can't wait to learn their baby's sex as soon as possible, Williams told Vogue's André Leon Tally that the suspense didn't bother them in the slightest. In fact, the athlete said they had a pretty straightforward solution to any possible confusion: Williams told Tally, that they just "call it 'baby.'"
The one issue that is on the couple's mind as they look ahead to their child's arrival though? Deciding on where they will live. Despite getting engaged in December, Williams and Ohanian still technically live on opposite sides of the country — the tennis star has called Palm Beach, Florida, home since 2015, while Reddit co-founder Ohanian lives in San Francisco, according to Us Weekly. When asked by Tally if she thought she'd end up moving to the West Coast when the baby is born, Williams admitted that that was "the question of the hour," but that she felt they "had time" before their baby arrives this fall to fully prepare.
From the sounds of it though, she might already feel pretty comfortable in California. In February, the pregnant tennis star made headlines when she went out to take her dog for a walk in San Francisco's Dolores Park, and ended up challenging two neighborhood tennis players to a friendly match, according to CBS News. And if that isn't already the coolest story, it actually gets better: Williams captured the whole thing on video.
In the clip, Williams explains that she was "just having a stroll at night," and was "thinking about asking these guys if I can hit with them, just to see their reaction." The shocked tennis players were naturally more than happy to have the number one ranked athlete join their game, and although Williams didn't share actual footage of their game (maybe she didn't want to embarrass them by publicly obliterating them?), it looked like they had a great time unexpectedly going up again against one of the world's greatest tennis players.
Although Williams takes her career very seriously, the impromptu tennis match seems to be only one example of her otherwise totally carefree sense of humor. In an Instagram video from Monday night's gala in New York City, for example, the mom-to-be can be seen playfully dancing and twirling in her designer gown, in a video she captioned, "Become one with the #metball at night."
Not all expectant parents are comfortable with the idea of having so many unknown variables in their future, but for now, Williams and Ohanian seem like they are just happy to take the pregnancy in stride. And when their baby does arrive, the fact that they've waited to learn their baby's sex will probably only make the moment even more exciting.