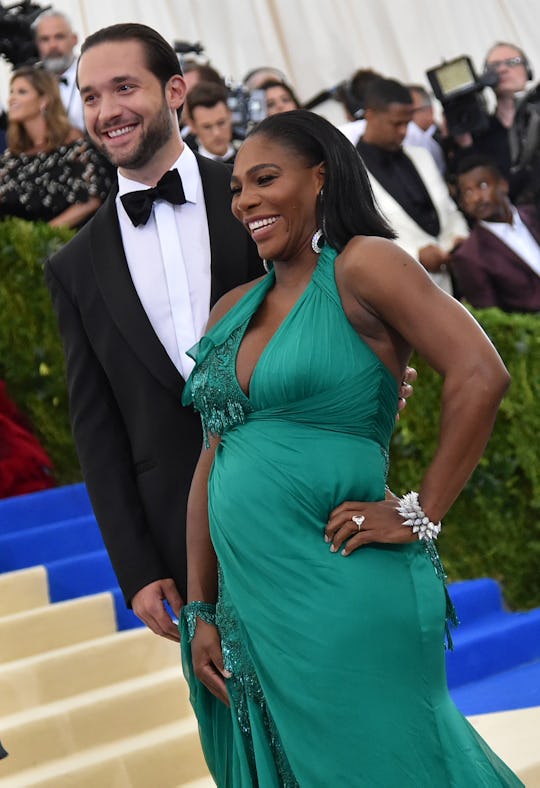 Mike Coppola/Getty Images Entertainment/Getty Images
Serena Williams & Alexis Ohanian Have Reportedly Welcomed Their First Child
Congratulations are in order! On Friday, Serena Williams and Alexis Ohanian welcomed their first child, according to the New York Daily News. Chris Shepherd, a WPBF-25 news producer, shared a tweet on Friday afternoon announcing that Williams gave birth to a baby girl, according to sources at the St. Mary's Medical Center in Florida.
"Tennis star Serena Williams gives birth to a baby girl weighing 6 pounds, 13 ounces. Mom and baby doing well," Shepherd shared on Twitter.
This is the first child for both Williams and Ohanian, who are planning to wed in the fall. The pair got engaged in December 2016, nearly a year and a half after they first met by chance in Rome, according to Vanity Fair. Just a month after Ohanian proposed (at the same hotel table where they first met, no less), they found out Williams was pregnant — a complete surprise for them both, but one that they welcomed.
The pair kept the pregnancy a secret until April, when Williams accidentally shared her news with the world via Snapchat. Whoops.
"I have this thing where I've been checking my status and taking a picture every week," Williams told Gayle King during a TED Talk. "I've been just saving it, but you know how social media is — you press the wrong button and… My phone doesn't ring that much, and 30 minutes later, I'd missed four calls. So I picked it up and realized, 'Oh no.'"
Soon after, Williams made a more official announcement on Instagram, where she captioned a baby bump picture with a touching letter to her unborn child. "My Dearest Baby," she began, before continuing:
You gave me the strength I didn't know I had. You taught me the true meaning of serenity and peace. I can't wait to meet you. I can't wait for you to join the players box next year. But most importantly, I am so happy to share being number one in the world with you.... once again today. On [Ohanian's] bday. 😉 from the world's oldest number one to the world's youngest number one.
On Friday, Williams' fans took to Twitter to congratulate the star:
Williams was also clearly ready to welcome her first child into the world — she even told Time in July that the hardest part of her pregnancy was being patient. ("I'm waiting for the prize at the end," she said at the time, which seems like a fitting sentiment from a woman who has won a record amount of prizes.)
Congratulations to the happy little family of three! The world can't wait to see what's next for Williams, Ohanian, and their new baby girl.