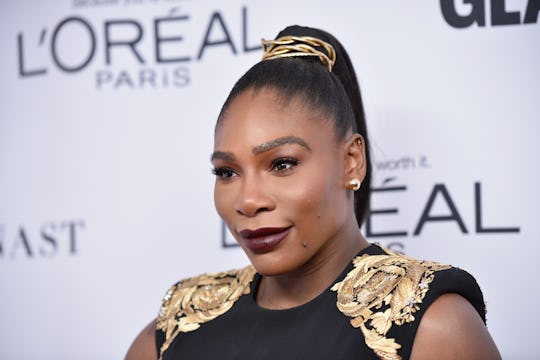 Bryan Bedder/Getty Images Entertainment/Getty Images
Serena Williams & Baby Alexis Celebrated Christmas With The Ultimate Throwback
Serena Williams shocked the world earlier this year when it was revealed that she won the Australian Open in January while pregnant. That's right, at six weeks along with her first child, the tennis legend earned her 23rd Grand Slam title. (Coming from someone who has been pregnant three times so far, that's some serious bad-a**ery right there.) Now, in less than a week, the new mom will be playing her first official match since giving birth on Sept. 1. In the meantime, Serena Williams & baby Alexis celebrated Christmas with the ultimate throwback.
The Daily Mail reports the tennis legend shared videos on Snapchat of herself and her daughter, Alexis Olympia Ohanian Jr., enjoying some of Williams' old tennis videos together on Christmas Eve. "The tiny tot was quite happy in her baby chair and all that could be seen of her in the snap was her dark curly hair and her cute black and white striped bootees adorned with pink frills," the publication reports. Of course, this isn't the first time baby Alexis has watched tennis with her mama. ET Online reports Williams shared a similar video on Snapchat back in October of her then 8-week-old baby watching Roger Federer. "What are you watching?" Williams asked her daughter in the clip, according to ET Online. "You like watching Roger? Hmmm. You're intensely watching!" Hmmm. Perhaps we've got another tennis pro in the making?
On Christmas Eve, Williams also shared a photo of the pair on Instagram — complete with both mother and daughter adorned with poinsettia garlands to their hair — thanks to special Christmas filter, reports People. (Aren't they just the cutest?)
Back in April, Serena Williams shocked fans everywhere when she inadvertently revealed her pregnancy on Snapchat. The tennis star accidentally posted a photo of herself — complete with a visible bump and the caption, "20 weeks" — that she intended to save for only for herself, according to The Washington Post. The snap was soon deleted, but the "damage" was already done. "Wait, what?" the world reacted in utter disbelief, while doing that math. The Washington Post reports that the accidental Snapchat post happened while Williams was on vacation. "I have this thing where I've been checking my status and taking pictures every week to see how far along I'm going," she said, according to the publication. "I was just saving them [for myself]. I've been so good about it, but this was the one time it slipped." She continued:
My phone doesn't ring that much, and thirty minutes later, I'd missed four calls. So I picked it up and realized, "Oh no."
As it turned out, Williams was indeed pregnant when she competed in the Australian Open — proving again just how amazing the female body really is. The mom-to-be confirmed the big news with a touching Instagram post a few days after her Snapchat mishap. "My Dearest Baby, You gave me the strength I didn't know I had. You taught me the true meaning of serenity and peace. I can't wait to meet you," she wrote. " I can't wait for you to join the players box next year. But most importantly, I am so happy to share being number one in the world with you.... once again today. On @alexisohanian bday. from the world's oldest number one to the world's youngest number one. -Your Mommy."
CBS12 News reported that Williams checked into St. Mary's Medical Center at West Palm Beach, Floria, on Aug. 30. She was induced the next day and ended up delivering on Sept. 1. In a video posted by both Williams and Ohanian on several platforms, the world got a glimpse into Williams' pregnancy journey — and found out the baby's name: Alexis Olympia Ohanian Jr. Williams explains toward the end of the video that mom and baby stayed in the hospital for six or seven days because of "a lot of complications." The sweet clip ends with their daughter's official stats: 6 pounds, 14 ounces, and one Grand Slam title.
On Dec. 30 — four months after giving birth — Williams will play against French Open champion Jelena Ostapenko at the Mubadala World Tennis Championship in Abu Dhabi, reports People. And I have no doubt this basa** mama will bring her A-game. Good luck on your big return, Serena! The hard work that you've put into training — not to mention the tennis-watching research you've done with your daughter — is sure to pay off.