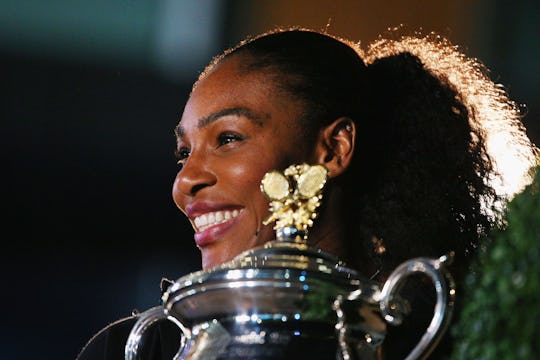 Michael Dodge/Getty Images Sport/Getty Images
Serena Williams Takes A Babymoon To Celebrate Her Pregnancy
Just days after announcing some very exciting baby news, it looks like Serena Williams is celebrating her pregnancy with a babymoon in Mexico. And the photos she's shared of the trip on Instagram are nothing short of incredible. Snaps posted over the past few days show the 35-year-old tennis star and fiancé, Reddit co-founder Alexis Ohanian, looking absolutely overjoyed as they indulge in some well-deserved rest and relaxation on the beach.
News of Williams' first pregnancy came after she revealed her baby bump on Snapchat earlier this week in a photo of herself wearing a yellow bathing suit turned to the side to show off her stomach. "20 weeks," she captioned the snap, which she quickly deleted from her account, leading many to wonder if she wasn't quite ready to make an announcement and perhaps just meant to send the photo to her friends instead.
Needless to say, fans were delighted by the news and have since flooded her social media accounts with warm messages of congratulations. And this excitement isn't going anywhere any time soon now that she's shared this latest batch of what appear to be photos from a babymoon trip — a newly coined term for a relaxing vacation taken by couples who are expecting a child — to the tropics.
On Saturday afternoon, Williams looked like she was in full vacation mode as she shared a shot of her lounging on the beach with a beautiful view of the ocean in front of her. While she didn't caption the photo, her followers kept sending their congratulations her way.
Earlier in the week on Monday, Williams posted another photo of the parents-to-be smiling ear-to-ear while hanging out on the beach. "My only regret is not pointing my toe sorry coach Garry," she jokingly captioned the happy snap of Ohanian is holding her on the sand.
And the fun didn't stop there: On Thursday she posted another photo of herself on vacation. This time she was overlooking the turquoise ocean while standing on a cliff next to some ancient ruins. As People reported, she captioned the shot "quoting a line made famous in the Spider-Man comics and movies."
"With great power comes great responsibility," she wrote with an attribution to the character Uncle Ben and completed it with a spider and spider-web emoij.
Was this quote choice a subtle ode to motherhood? She didn't say, but it certainly could be. In just a matter of months, Williams will be raising her soon-to-be baby and that's quite possibly the greatest responsibility of all. But it's safe to say, with a mom like her, this kid will be in good hands.