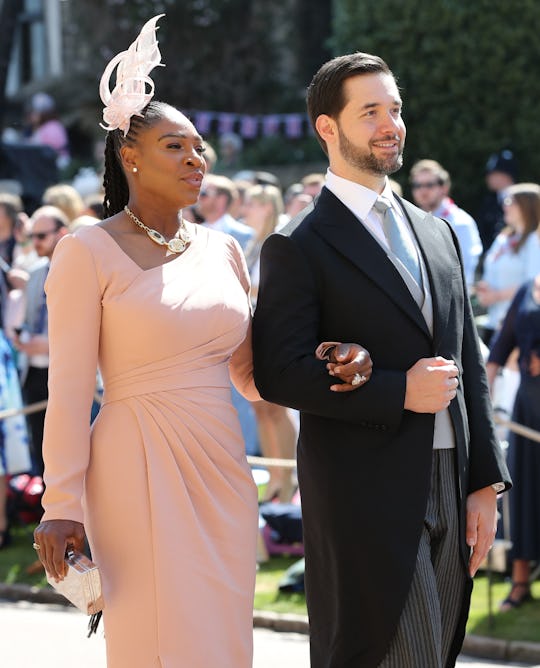 WPA Pool/Getty Images Entertainment/Getty Images
Serena Williams Has Officially Debunked This Popular Rumor About The Royal Wedding Reception
Prince Harry and Meghan Markle's private wedding receptions sounded like an absolute blast. But people have to take the word of the guests rather than seeing it for themselves as cameras stopped filming once the wedding ceremony was over. While there have been many rumors about the royal wedding receptions, on Tuesday, wedding guest (and Markle's close friend) Serena Williams debunked a certain royal wedding reception rumor that might have some people kind of sad. But, at the end of the day, proves just how wild the wedding theories have become.
Forget what people might have heard — Williams definitely did not play beer pong at the private royal wedding reception held with 200 of the couple's closest friends and family members in attendance at the Frogmore House at Windsor Castle. Williams made this clear in an interview on Tuesday, according to Us Weekly, stating that she had fun at the royal wedding, but maybe not as much fun as the rumors stated. One thing should be known: Williams doesn't play beer pong, let alone drink beer.
"Oh there was no beer pong," Williams said, according to Us Weekly. While some people might be a bit bummed about this fact, there are no doubts that it looked like Williams, and her husband, Alexis Ohanian, still had the time of their lives at the wedding. In case people missed it, the couple looked incredible in their Instagrams from the day of the wedding.
Williams took time on Tuesday to explain why the rumor was a bit wrong, although she and her husband reportedly found it to be pretty funny. Williams said, according to Us Weekly:
I don't even drink beer, and I don't know where this story came out. It's not even remotely true. And my friends are like, "What happened?" I'm like, "There was no beer pong." I was looking at Alexis like, "Wait a minute, did we miss something?"
Chances are, if they thought they missed something, then there was no beer pong at the royal wedding. The game, which involves players standing in front of two ends of a table and throwing ping pong balls into cups filled with beer, according to Popular Science, does require some athletic ability — but Williams was not the athlete to play it.
Until Williams spoke out about it on Tuesday, some people assumed this rumor was true. Two days after the royal wedding took place, according to Harper's Bazaar, The Sun reported that Williams had "dominated" in beer pong. "Serena Williams played beer pong like it was tennis," a "reception insider" told The Sun. "Everyone had so much fun with it, there were even fireworks."
While guests were treated to a fireworks display at the end of the evening around 11 p.m., according to Us Weekly, it wasn't because Williams was celebrating her first beer pong championship.
With this rumor now debunked, some people have to wonder if any of the other popular rumors from the royal wedding reception could also have been not so true. Like the rumor that Markle and Prince William chose to Whitney Houston's "I Wanna Dance With Somebody" as the song for their first dance, according to The Cut. Or the fact that George Clooney was "running the tequila bar and was serving drinks" to the guests according to E! News.
Until those rumors are dispelled, people will just have to wait for the wedding guests to reveal some more details — just like Markle's close friend, Janina Gavankar did. Gavankar told Town & Country that the wedding reception was a blast. "We all danced until the wee hours," Gavankar said. "We partied and celebrated and ate sliders at two in the morning."
Even without beer pong, it still sounds like Prince Harry, Markle, and their guests had an amazing time. And, at the end of the day, that's what really matters.