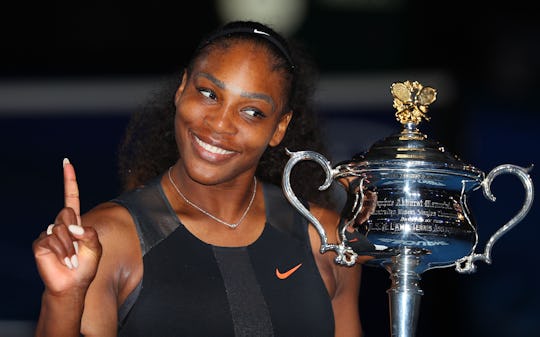 Scott Barbour/Getty Images Sport/Getty Images
Serena Williams Describes The Moment She Found Out She Was Pregnant
Learning that you're expecting your first child is a surreal experience and it doesn't matter how prepared or unprepared you are for that big moment. In a recent interview with Vanity Fair, tennis pro Serena Williams describes the moment she found out she was pregnant, revealing that she was just as surprised as everyone else.
"(I) did a double take and my heart dropped. Like literally it dropped," 35-year-old Williams told Vanity Fair for the magazine's August cover story, adding that her immediate reaction was one of disbelief and wondered how it'd affect her upcoming performance on the tennis court.
"Oh my God, this can't be — I've got to play a tournament," Williams continued. "How am I going to play the Australian Open? I had planned on winning Wimbledon this year."
Before she had taken a pregnancy test, she told a friend, Hollywood talent agent Jessica Steindorff, that she had been feeling "a little different physically." According to the interview, Williams revealed that her breasts were enlarged and she had unexpectedly thrown up — two very common signs of pregnancy. But Williams told Vanity Fair she didn't think much of it, and it was her friend who went to a pharmacy and bought a pregnancy test.
"I'll take it just because (a) to prove you wrong and (b) because it's fun, whatever. It's like a joke. Why not?" Williams told Vanity Fair, explaining that she took the test in the bathroom while she was getting her hair and makeup done for an event and didn't check the result until about an hour and a half later.
"I went back to the bathroom and I totally forgot about it because it was impossible for me... So I went back to get dressed and I went back in the bathroom and I was like, 'Oh yeah, that test,'" Williams recalled of that day.
What happened afterwards was reminiscent to a scene in Knocked Up, when Katherine Heigl takes about a dozen pregnancy tests. For Williams, it took six positives tests to convince her that she was indeed pregnant.
According to Vanity Fair, Williams told her fiancé, Alexis Ohanian, the exciting news by handing him "a paper bag with the six positive pregnancy tests." Not long after that, she went on to win the Australian Open.
Six months later and Williams told Vanity Fair that she is still in disbelief about her impending parenthood.
"It just doesn't seem real. I don't know why. Am I having a baby?" she said in the interview. "I don't know what to do with a baby. I have nothing … I've done absolutely nothing for the baby room."
News of Williams' first pregnancy came back in April after she mistakenly revealed her growing bump on Snapchat. While she initially deleted the post from her account, Williams later confirmed that she was indeed pregnant and is expected to give birth in the fall, according to Reuters.
Every step of Williams' first pregnancy has been an exciting journey — for the parents-to-be and for her huge fan following. And while she may be the best tennis player ever, the expectant mom has proven yet again just how relatable and lovable she is to so many people.