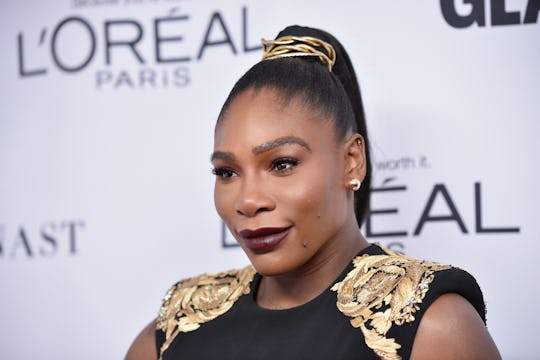 Bryan Bedder/Getty Images Entertainment/Getty Images
Serena Williams' Haunting Essay About Almost Dying During Childbirth Is A Must-Read
It's no secret that Serena Williams' journey to motherhood was not an easy one. When her baby's heart rate dropped drastically during labor, Williams was forced to deliver via an emergency C-section. Her daughter was born healthy. However, a series of scary complications plagued the new mom for the following week. And because Williams' healthcare providers wouldn't listen to her at first about her symptoms and history of blood clots, she was put in even greater danger. Now, Serena Williams' essay about almost dying during childbirth paints a terrifying picture of maternity care.
CNN published a moving essay by Williams on Tuesday. In it, the brave mom detailed her terrifying experience of giving birth in the U.S. — even though she was surrounded by a team of highly-trained professionals. On Sept. 1, she and her husband, Alexis Ohanian, welcomed their baby girl, Alexis Olympia Ohanian Jr. The new mom was recovering from her C-section when she suddenly became short of breath, as Vogue reported. Taking into account her history of blood clots, she alerted a nurse immediately. After some convincing, doctors performed a CT scan, which revealed exactly what Williams suspected: A pulmonary embolism, or blockage caused by small blood clots in her lungs.
Unfortunately for Williams, that wasn't the end of her postpartum health issues. The new mom's C-section wound opened because of the coughing fits brought on by her pulmonary embolism. And when Williams was in surgery to re-close this wound, doctors found a large hematoma in her abdomen. At this point, she had to have yet another procedure to prevent clotting. "I am so grateful I had access to such an incredible medical team of doctors and nurses at a hospital with state-of-the-art equipment," Williams wrote in her newest essay for CNN. "They knew exactly how to handle this complicated turn of events. If it weren't for their professional care, I wouldn't be here today."
But not all women are so lucky. In fact, as Williams pointed out, black women in the U.S. are more than three times as likely to die from pregnancy or childbirth-related causes, according to the Centers for Disease Control and Prevention (CDC.) She continued:
Around the world, thousands of women struggle to give birth in the poorest countries. When they have complications like mine, there are often no drugs, health facilities or doctors to save them. If they don't want to give birth at home, they have to travel great distances at the height of pregnancy. Before they even bring a new life into this world, the cards are already stacked against them.
Willams also recounted the story — as documented by UNICEF — of a woman named Mary James, who walked for hours while in labor in Malawi to reach the nearest healthcare center. Though she did make it to the healthcare center, where she delivered, her baby tragically died later that day.
Williams went on to point out that 2.6 million newborns die every year, according to UNICEF — and more than 80 percent of these deaths are preventable. "We know simple solutions exist, like access to midwives and functional health facilities, along with breastfeeding, skin-to-skin contact, clean water, basic drugs and good nutrition," she wrote. "Yet we are not doing our part. We are not rising to the challenge to help the women of the world." Williams continued:
Mary's baby died because there weren't enough doctors or nurses to save him. This is a chronic problem plaguing the most impoverished countries. But what if we lived in a world where there were enough birth attendants? Where there was no shortage of access to health facilities nearby? Where lifesaving drugs and clean water were easily available to all? Where midwives could help and advise mothers after birth? What if we lived in a world where every mother and newborn could receive affordable health care and thrive in life? That world is possible. And we must dare to dream it for every black woman, for every woman in Malawi, and for every mother out there.
So what can we do to help? As Williams explained, we can donate to UNICEF and other organizations working to help mothers and babies who need it the most. We can also put pressure on businesses, government, and health care providers, to take action, Williams wrote, adding:
In doing so, you become part of this narrative — making sure that one day, who you are or where you are from does not decide whether your baby gets to live or to die. Together, we can make this change. Together, we can be the change.
It seems like plenty of people are already inspired by both Williams' personal story and her shedding light on such an important cause.
I love that Williams is using her story to raise awareness for the mothers and babies who so desperately need help. Because as scary as her post-delivery complications were, ultimately, Williams was able to go home with her baby girl. In many areas of the world, moms and babies in the same situation wouldn't have this happy ending.
Check out Romper's new video series, Bearing The Motherload, where disagreeing parents from different sides of an issue sit down with a mediator and talk about how to support (and not judge) each other's parenting perspectives. New episodes air Mondays on Facebook.