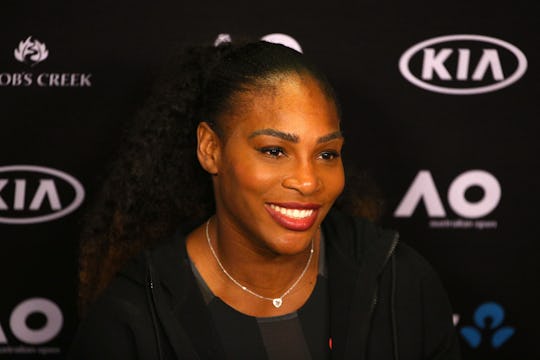 Michael Dodge/Getty Images Sport/Getty Images
Serena Williams Gets Honest About The Emotional Lows Of Motherhood, & It's So Damn Real
Having a child changes everything, and for many moms, not all of those changes are necessarily good. While your Facebook feed may be full of sweet baby photos and your Twitter timeline is chock full of adorable toddler quotes, parenting isn't always a bed of roses, and it's OK to admit that. In a new interview with Vogue, Serena Williams got honest about motherhood's emotional lows, and her words will be such comfort and relief to so many moms who are worried that they're just not cut out for this child-rearing thing.
Williams spoke to the magazine just two months after her daughter, Alexis Olympia Ohanian Jr. (who goes by Olympia), was born. Make no mistake; Olympia is very much loved and wanted. Williams described how she's wanted to be a mother since she was little, and she's even toyed with the idea of becoming a stay-at-home mom. "Now that I'm 36 and I look at my baby, I remember that this was also one of my goals when I was little, before tennis took over," she said. But it can also be incredibly draining:
Sometimes I get really down and feel like, Man, I can't do this. No one talks about the low moments — the pressure you feel, the incredible letdown every time you hear the baby cry. I've broken down I don't know how many times.
Awareness of postpartum depression is on the rise, but it's important to understand that every new mom is going to have some hard times, and it's totally normal. Parenting is an enormously difficult job that no amount of classes or books can completely prepare you for, and many moms are also dealing with sleep deprivation and recovery from a major physical ordeal while trying to learn the ropes. And then there are those fluctuating hormones. "I'll get angry about the crying, then sad about being angry, and then guilty, like, 'Why do I feel so sad when I have a beautiful baby?'" Williams told Vogue. "The emotions are insane."
Olympia's birth was also complicated; she was born via emergency C-section because her heart rate dropped dangerously low during labor, and Williams suffered from pulmonary embolisms, hemorrhaging, and a hematoma that landed her on bed rest for six weeks following her daughter's delivery. She plans to keep playing tennis, and her current goal is to win at least two more Gram Slams in order to beat Australian player Margaret Court's record of 24, but she's daunted by the prospect of balancing her career and family. Comparing herself to fellow tennis great Roger Federer, who has two sets of twins, she said, "It's so unfair. He produced four babies and barely missed a tournament. I can't even imagine where I'd be with twins right now. Probably at the bottom of the pool."
I'm not trying to discourage anyone from having a baby (and I assume Williams isn't, either), but new moms need to know the truth about those first months, and realize that when they're feeling frustrated, exhausted, overwhelmed, or discouraged, they're not alone. Yes, it's a magical time, you've just brought a new life into the world, and you're completely in love with them, yada yada yada, but for real, it also kind of sucks. It's OK to admit that! And it's OK to ask for help — specific help — and accept it when it's offered. Split shifts with your partner so you can get some uninterrupted sleep, Today's Parent advises, and don't feel bad about letting household chores slide.
Well-meaning friends and relatives might offer to lend a hand, and then spend their entire visit just holding your baby. If that's what you want, great! Have a shower and a nap. But if not, don't be afraid to ask for what you really need, whether that's bringing over a few frozen home-cooked meals, running a load of laundry, or just watching a movie with you like you're a normal human again. While most conversations about postpartum recovery center focus on when your body will be "back to normal," remember that your emotions will be all over the place for at least a few weeks, and it doesn't mean you're a failure. It just means you're a new mom.
Check out Romper's new video series, Romper's Doula Diaries:
Watch full episodes of Romper's Doula Diaries on Facebook Watch.