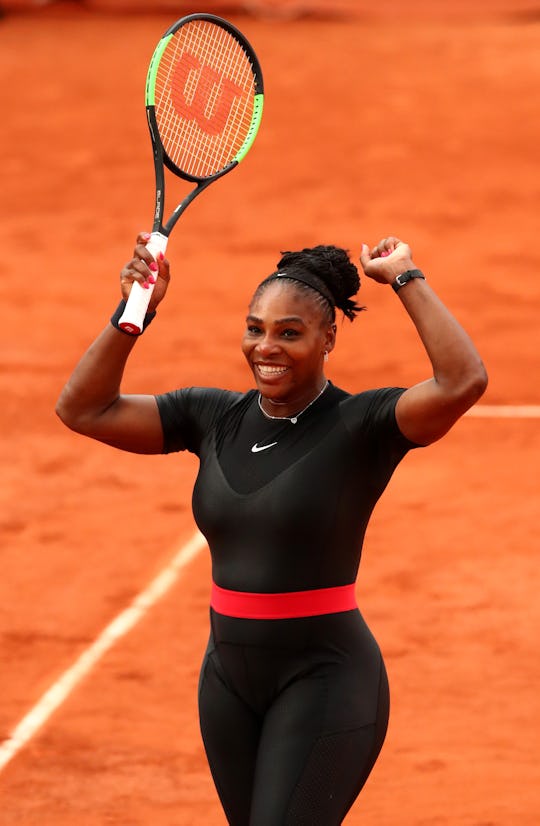 Clive Brunskill/Getty Images Sport/Getty Images
Serena Williams Got Honest About How Much Her Life Has Changed Since Having A Baby
Serena Williams is one of the greatest athletes alive. She holds the most Grand Slam titles in singles, doubles, and mixed doubles combined among active players in tennis, and has won four Olympic gold medals. There's no question that she's a stellar athlete and fierce competitor. And these days, she's also a mom. Serena Williams got honest about how much has changed after baby number one in a new interview with InStyle, and other parents can definitely relate to how very different her life is since she gave birth to her daughter.
On Sept. 1, Williams welcomed a daughter, Alexis Olympia with her now-husband, Alexis Ohanian, the co-founder of Reddit — the two actually married about two months after their baby was born, according to Us Weekly. And even before the baby arrived, she was changing her mother's life.
Olympia, as Serena calls her in the InStyle interview, made herself known while her mom was playing in the Australian Open in 2017. Although Williams thought it was "impossible" that she could be pregnant, she took a pregnancy test to shut up a friend, only to find out that she was, in fact, expecting, according to InStyle. And learning that she was pregnant changed Williams right from the start — she requested "a really early time" to play in the tournament to avoid the heat that day, which doctors had told her could be an issue early on in her pregnancy.
But the changes didn't stop there.
A Typical 24 Hours
In fact, every day is different for Williams since her daughter arrived. She explained to InStyle that her day starts when, "I wake up at either 2 a.m. or 4 a.m. to feed Olympia." She then feeds and plays with Olympia before heading out to practice, which has to be done by 1:00 p.m. so she can get back to her daughter.
Williams also bathes her baby every night, "then I ask her if she wants the express wax or the deluxe," she told InStyle. "Express is when I rub coconut oil on really fast and then I put her diaper on. Deluxe is when I do it a little slower and give her a little massage." How adorable is that?
On Preparing To Practice & Play Tennis
Williams has even had to change how she prepares to practice for or play a tennis match every day. Because she's breastfeeding, she told InStyle:
I'm in the locker room pumping before a match because my boobs are so big. When I pump, they go down a size or two and I go out and play. It's crazy.
And while not every mom can relate to pumping before a tennis match, a lot of breastfeeding mamas probably know what it's like to have to fit the process into their regular routine.
On Her New #Goals
Williams has spoken before about how her daughter has changed her life as an athlete. In January, she spoke with Vogue about how she "absolutely" wants more Grand Slams, but her daughter has changed her approach to her goals a little. Williams said:
And actually, I think having a baby might help. When I'm too anxious I lose matches, and I feel like a lot of that anxiety disappeared when Olympia was born. Knowing I've got this beautiful baby to go home to makes me feel like I don't have to play another match. I don't need the money or the titles or the prestige. I want them, but I don't need them. That's a different feeling for me.
So no worries, Williams has no plans to quit tennis anytime soon. She's just shifted her priorities a bit to include Olympia in the equation.
Future Motherhood
For someone who was so surprised to be pregnant the first time, Williams' approach to possible motherhood seems to have changed since having her daughter. She told InStyle that she and Ohanian have "got to have more" kids, and that she'd already be pregnant again if she weren't working.
Williams also said her future might drastically change if she does choose to have another kid: she might not continue to play tennis. She said, according to InStyle:
I don't know if I want to play if I have another baby, but you're right. I need to talk to Alexis. We need a plan.
Having a "plan" definitely sounds like she's pretty serious about the idea, and this isn't even the first time Williams has talked about future children with Ohanian. In May, she said, according to Hello! magazine:
If I wasn't playing tennis, I'd be pregnant right now - sorry, I'm one of those women. I've been injured so many times, and played on it, my body is used to adjusting.
Olympia needs a little sister, and then we can have a boy. I've only been around girls my whole life.
It sounds like everything from how she prepares for a game, to her every day life, to the way she views the future has changed for Williams since her daughter was born. Her honesty is super refreshing, and the changes she's made in her life are ones that most parents probably recognize all too well.