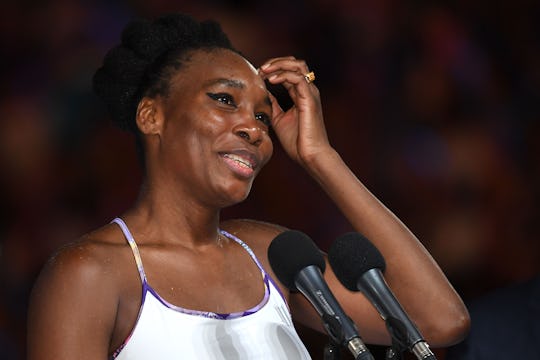 Quinn Rooney/Getty Images Sport/Getty Images
Serena Williams' Had The Cutest, Most Unexpected Baby Shower
Serena Williams does everything with style — from winning tennis matches and breaking records to appearing on the cover of magazines. Williams is just weeks away from giving birth to her first child with fiancé Alexis Ohanian, and has been rocking every element of her pregnancy. So it is no surprise that Serena Williams had a 1950s themed baby shower, perhaps making her even cooler than before.
Williams' baby shower was not like your ordinary baby shower, but then again, Williams isn't your ordinary pregnant person. Not everyone can have a star studded baby shower with guests dressed to the nines in poodle skirts and vintage wears, but Williams did this past Saturday. Everything looked amazing — from the location (a 1950s diner in West Palm Beach, Florida, according to E!) to the guest list (hello Ciara, Eva Longoria, and Kelly Rowland) to the food guests dined on (milkshakes and cheeseburgers, yes please).
The shower took place at "Baby O's Diner," which was a play on Ohanian's last name, and was worthy of a million pictures. So its no surprise that the celebrities in attendance took a lot them, using the hashtag, "#shakerattleandroll" on Instagram. Get it? Because babies play with rattles? Seriously, the photos from the baby shower will give you some serious FOMO.
Williams and Ohanian's baby will be here any day now. Williams is due the first week of September, and the baby's arrival is highly anticipated. As previously stated, this is the first child for both Williams and Ohanian, and they both have expressed their excitement for their baby's arrival. In a recent interview with Stellar magazine, Williams told the magazine that she is both scared and overjoyed for their child's upcoming arrival:
Having a baby, nothing is guaranteed. That's the scariest thing. [But] I think giving birth will give me more strength, if thats possible, and a lot more confidence. I feel like I will be ready for anything.
There is no doubt that they will make amazing parents. During Williams' pregnancy, Ohanian has enlisted the help of fans, followers, and users of the website he cofounded, Reddit, for advice, while Williams has looked to her mom for tips. There is no denying that Williams and Ohanian's baby will be a strong person, just based on how they were raised. Williams said, during her keynote speech at the BlogHer Conference, according E!:
And so I feel like all those lessons my mom taught me about being so strong, of proud of who I am, of being able to look anyone in the face and have confidence and speak with so much confidence is something that I really have been able to embrace and would love to teach my kid that.
Now that they've had their shower, Williams and Ohanian are just one step closer to finally welcoming their child into the world. I can't wait.