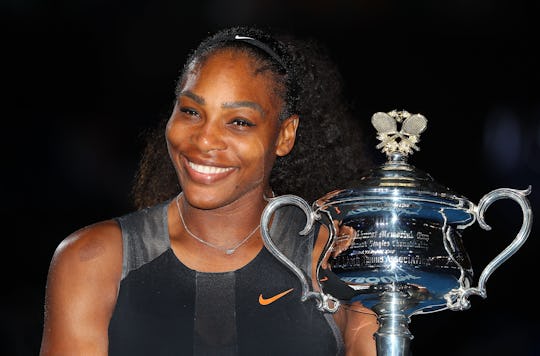 Scott Barbour/Getty Images Sport/Getty Images
Serena Williams Has This Common Complaint About Her Fiancé
There's something about welcoming a new baby that can create tension in a relationship. Maybe it's the lack of sleep. Or the crying. Or the fact that suddenly, your entire life revolves around a tiny human being who relies on you for literally everything. (Yeah, let's go with that.) The point is, it's normal to have complaints about your significant other — especially when there's a newborn in the house. This goes for celebrities, too. As it turns out, Serena Williams has a common complaint about her fiancé Alexis Ohanian, and moms can relate.
Williams and her Reddit co-founder fiancé welcomed their first child — a daughter they named Alexis Olympia — on Sept. 1. And apparently, the adoring father has been driving the mother of his child crazy in one particular way. People reports on Saturday, the 23-time Grand Slam champion took to Twitter to express this grievance. Williams wrote, "I do love Alexis Sr. @alexisohanian but if he buys one more outfit or toy for Olympia @OlympiaOhanian I'm going to explode."
LOL. Even though Williams' post was clearly tongue in cheek, plenty of parents could relate to her plight.
One Twitter user has been in the same predicament. "I know it's tempting," the mom wrote. "My husband did the same thing for our son and then he ended up with a ton of clothes that he never wore. They grow so fast and they can't wear everything." Another empathetic mother chimed in with, "I had to tell my husband the same thing!"
Yet another Twitter user entered the conversation with a pretty solid suggestion, writing, "Haha! Every time he buys one, give one to charity. It's the only way to stay sane!" From a been-there-done-that mom, this is definitely a smart way to stay ahead of the clutter.
Yet another parent warned the alarming accumulation of stuff isn necessarily isolated to the newborn days. Which isn't exactly great news for an already-drowning-in-kid-stuff Williams. "Haha. Yesterday, my hubby came home with something for our son. He is 24."
Since little Alexis Olympia's birth, the tennis champion has kept up a fairly steady stream of awww-worthy social media updates. (And I'm sure her fans have no complaints about this whatsoever.) The first update after delivery came in the form of a YouTube video tribute of Williams' pregnancy — ending with an introduction of their baby girl and a reveal of her special name. "So we're leaving the hospital "So we're leaving the hospital after six, seven days," the proud new mama said in the video, according to E! Online. "It's been a long time, but we had a lot of complications, but look who we got — we got a baby girl!"
A more recent glimpse into the family's life came in the form of an adorable photo of Williams' freshly-bathed daughter wrapped in a towel, while being snuggled by her daddy. "We love bath time," Williams wrote on Instagram.
As Williams is clearly soaking in the glory of new motherhood, she is also making plans for a competitive comeback. She announced on Oct. 31 the intention to defend her title at the Australian Open in January — the very same competition where she bested her sister, Venus, in the final while pregnant. "Serena will be back," said tournament director Craig Tiley, according to Sports Illustrated.
You know, I'd like to say Ohanian's love for showering his daughter with cute clothes and toys will fade in time. But honestly? My husband still has a field day buying our two daughters — nearly 4 and 18 months — adorable outfits. Granted, our youngest uses her sister's hand-me-downs for the bulk of her wardrobe — which brings me to my next point. Athough Williams may feel like she's drowning in baby stuff now, it would probably be wise to hang on to some of it. Who knows? Maybe in a couple of years — after Williams secures a few more titles in her name — there might be another Williams-Ohanian baby to enjoy all of those cute outfits!