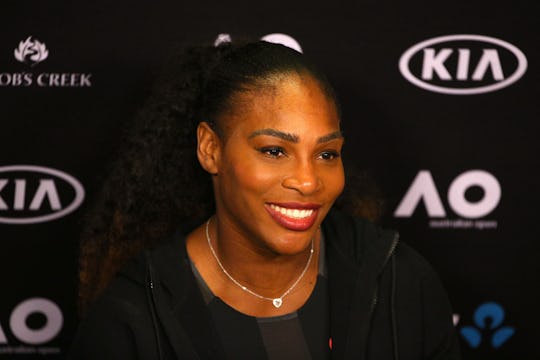 Michael Dodge/Getty Images Sport/Getty Images
Serena Williams' Instagrams Of Alexis Ohanian Are Amazing
Serena Williams promptly made the internet lose its entire mind when she accidentally shared a Snapchat photo online that announced that she was expecting a baby, and the news has since led curious fans to want to know more about Williams' fiancé, Reddit co-founder, Alexis Ohanian. The good news is that you don't actually have to look very far to get a glimpse into the couple's too-cute-for-words relationship, because Serena Williams' Instagrams of Alexis Ohanian make it pretty clear that they are a perfect match. Although the totally badass tennis champ and the self-professed tech geek may not exactly seem like an obvious pairing, judging by his presence on her social media accounts, it's not hard to see that the two are absolutely right for one another.
Williams recently opened up about her relationship with Ohanian in an interview with Gayle King during a TED talk the athlete gave in Vancouver, according to USA Today, and in the interview, Williams couldn't help but gush over her husband-to-be. When King joked that she "would never put [her] with a nerdy geek," Williams admitted that she hadn't necessarily thought Ohanian would be her type either. But she told King that Ohanian was " very loving and he's very kind," and that being with him had turned out to be "the best thing" for her.
That's definitely a sweet testament to their love, but honestly, it's something you could already tell about the couple if you'd been following Williams on social media. Although she is as much of a fixture on Ohanian's Instagram account and he is on hers (he isn't even sort of afraid to gush about his girl), it's clear that Williams knows she's found the right man.
They're Totally Adorable
I mean, seriously though. As you'd expect, Williams' Instagram is super tennis-heavy (she is the number one ranked player in the WTA, after all, according to ESPN), but when she's not on the court, it looks like Ohanian is her favorite companion. And that's honestly not surprising: the couple seems to not only really, really like one another, but they're both super proud of each other's accomplishments (watch Ohanian's reaction to Williams' Australian Open win and then try not to cry), and they also don't seem at all afraid to be affectionate with one another either.
In Williams' most recent Instagram post featuring her fiancé, the couple posed on the beach together, and you can pretty much feel the love just by looking at it.
They Look Great Together
She may spend most of her days training, and he may be a computer geek at heart, but both Williams and Ohanian know how to step out looking stylish. An Instagram shot from one of the couple's nights out shows that, in addition to looking seriously suave during photo shoots, Ohanian clearly knows how to rock a suit. And, unsurprisingly, Williams looked flawless as his date — also dressed in black and white — even when she's paired her outfit with Nikes.
The other awesome aspect of their photos together? They always seem to look so happy and at ease with one another.
They've Got The Same Sense Of Humor
Williams may seem cool AF, but judging from her social media accounts, she's also got a pretty silly side. In one totally cute pic, Williams shared a snap of the two of them at what appears to be some kind of costume party. And they even made sure to coordinate: while Ohanian showed up unapologetically in a full grizzly bear getup, Williams joined in with a bear joke of her own — a plaid onesie with "bear cheeks" written across her super toned behind.
They're Fun To Be Around
As lovely as they seem alone together, Williams' photo of the two of them surrounded by friends shows that they also look like they're a blast to hang out with in a group. In the pic's caption, Williams wrote, "I love this pic cause it shows our personalities," noting that Ohanian was "the nerd," and that she was "being over the top."
Their Relationship Is Seriously Romantic
It definitely seems like Ohanian is a pretty romantic guy, but Williams admitted to Gayle King that, actually, she almost ruined his proposal. Williams admitted that she "was angry" with Ohanian for suggesting the couple fly to Italy (where he planned on proposing), because it was during her training season for the Australian Open. Williams said, "I was like, I've got to win the Australian Open. I can't fly to Rome because he wanted to take me to Rome."
In the end, the couple did fly to Rome, and in a recent #TBT, Williams shared a shot of Ohanian's sweet set up. And it's clear that Williams definitely didn't stay angry for long: she posted a beautiful poem on Reddit to accompany the couple's engagement announcement
A quick scroll through the couple's social media accounts, and it's honestly hard to believe that anyone could possibly give these two a hard time about their love (most recently, Williams spoke out on Instagram about alleged racist comments made about her pregnancy by former Romanian tennis champ Ilie Nastase, according to People). Of course, what really matters is that two two of them seem truly happy to have ended up together. And when they welcome their little one later this year? It's probably pretty safe to assume that they will pretty much be the world's most adorable little family.